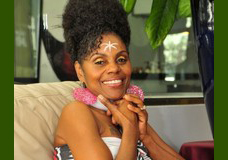 Should African hairbraiders have to build an entire barber college and become barbering instructors just to teach hairbraiding? Texas officials think so.
Dallas entrepreneur Isis Brantley is one of the country's leading African hairbraiders. She works with everyone from Grammy Award-winning artist Erykah Badu to the homeless. But Texas will not permit Isis to teach hairbraiding for a living unless she spends 750 hours in barber school, passes four exams that do not teach braiding, spends thousands of dollars on tuition, and builds a fully-equipped barber college she doesn't need. Tellingly, Texas will waive all these regulations if Isis goes to work for an existing barber school and teaches hairbraiding for them.
Braiding instructors should not be forced to build barber schools or take classes from barbers. That is why on October 1, 2013, Isis will join with the Institute for Justice to file a federal lawsuit against Texas. A victory could promote economic liberty throughout Texas and beyond.
Isis is no stranger to fighting for economic liberty. In 1997, seven government officials raided her business and hauled her off in handcuffs for braiding hair without a special government license. Isis had the law changed in 2007, but Texas officials simply wedged hairbraiding into the state's barbering statute, allowing her to braid hair while making it nearly impossible for her to teach hairbraiding for a living.
Founded in 1991, the Virginia-based Institute for Justice is the national law firm for liberty.