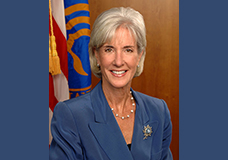 Health and Human Services (HHS) Secretary Kathleen Sebelius  recognized more than 900 Champions for Coverage nationwide. These organizations and businesses have volunteered to help Americans without affordable insurance learn more and get coverage through the Health Insurance Marketplace, which opens for business tomorrow and will give consumers a whole new way to shop and purchase affordable, high quality health coverage.
"A network of volunteers on the ground in every state – health care providers, business leaders, faith leaders, community groups, advocates, and local elected officials – can help spread the word and encourage their neighbors to get enrolled," said Secretary Sebelius.
Champions for Coverage include national and local businesses and organizations – bloggers, community health centers, hospitals, communities of faith, and civic organizations. They will use publicly available materials from the Centers for Medicare & Medicaid Services (CMS) – both digital and in print – to help members of their communities understand their new options through the Marketplace. There are many ways these organizations are helping, including providing information about the law in their office, hosting education events, or posting information on their website.
"We are both excited and thankful to have such a wide variety of businesses and organizations that want to get involved and help us spread the message about these new opportunities for people to access quality, affordable health insurance with open enrollment beginning tomorrow," said CMS Administrator Marilyn Tavenner. "Coverage for those who enroll by December 15 will begin on January 1, 2014."
The growing list of organizations includes:
American Academy of Family Physicians
American Nurses Association
Bon Secours Health System
Men's Health Network
National Women's Law Center
Lutheran Services in America
Thrifty White Pharmacy
In all states, there will be people trained and certified to help you understand your health coverage options and enroll in a plan. They will be known by different names, depending on who provides the service and where they are located. Using the "Find Local Help" tool, you can find information about assisters like Navigators, application assisters, certified application counselors, and government agencies.
Consumers can also find help at local community health centers and libraries. The Marketplace consumer call center is open 24 hours a day, 7 days a week at 1-800-318-2596 (hearing impaired callers using TTY/TDD can dial 1-855-889-4325), with translation services available in 150 languages. Visit HealthCare.gov or CuidadodeSalud.gov to learn more or participate in a live chat with a trained customer service representative.
Enrollment in the Health Insurance Marketplace continues for six months. Consumers can apply and choose a plan until the end of March, with coverage beginning as early as Jan. 1, 2014.
To see the list of Champions for Coverage visit: http://marketplace.cms.gov/help-us/champion.html .
To join the growing list of Champions for Coverage, visit: http://marketplace.cms.gov/help-us/champion-apply.html.