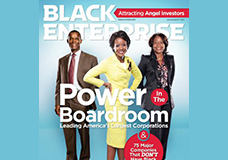 BLACK ENTERPRISE (BE) has released its latest exclusive report on African American representation on the corporate boards of 250 of America's largest publicly traded companies at BlackEnterprise.com. The media company identifies 177 African American directors at S&P 500 companies, including Starbucks, Walmart, ExxonMobil and Ralph Lauren, on the BLACK ENTERPRISE Registry of Corporate Directors. In addition, the report reveals 75 companies with no African American representation among their boards of directors.
BLACK ENTERPRISE's report spotlights prominent African American directors including Ariel Investments L.L.C. President Mellody Hobson, who serves on the boards of The Estee Lauder Cos. Inc. and Starbucks Corp.; Darden Restaurants Chairman & CEO Clarence Otis, a director for Verizon Communications and VF Corp; and Gilead Sciences SVP and Chief Financial Officer Robin L. Washington, among others.
The registry and report can be found at BlackEnterprise.com via the following link: http://www.BlackEnterprise.com/tag/black-corporate-directors/. The report, "Directing America's Largest Corporations," is also featured as the cover story in the latest issue of BLACK ENTERPRISE Magazine.
"Our report highlights the achievements of exemplary African American board members at our nation's largest corporations," says BLACK ENTERPRISE CEO Earl "Butch" Graves Jr. "They are among the guardians of shareholder value who are ensuring the continued viability of American industry, including trillions of dollars in assets and millions of managers, employees, suppliers and other corporate stakeholders."
"It should be equally alarming to us that in 2013, 30% of the 250 largest corporations do not currently have a single African American director despite the fact that many of these companies enjoy tremendous market share from African American consumers," says Graves, who serves on the board of Memphis, Tenn.-based Auto Zone. "It is our duty to challenge those corporations and ask them why. As corporate directors and shareholders of our nation's largest companies, it is our collective responsibility to hold corporate America accountable and ensure that African Americans are never marginalized or overlooked."
The registry is drawn from a universe of the 250 largest companies on the S&P 500 based on market capitalization as of June 14, 2013. BLACK ENTERPRISE compiled the listing by reviewing proxy statements and annual reports, as well as contacting investor relations departments, corporatet governance experts, and organizations such as the Black Corporate Directors Conference and Executive Leadership Council  (ELC); the latter is a network of the nation's most highly ranked African American corporate executives.
BLACK ENTERPRISE reports that corporate boards have become less diverse over the past several years. According to a report from the Alliance of Board Diversity, in 2010 white men held 74.5% of board seats on the 500 largest publicly traded companies, versus 5.7% for African American men and 1.9% for African American women. By 2012, the percentage of African American male directors declined to 5.5%, while the percentage of African American female directors remained flat. White men continue to hold roughly 95% of board chair positions and 86% of lead director slots.
"African Americans were the only group that experienced a decline [in board representation]," says Ronald C. Parker, president and CEO of the ELC, a member of the Alliance. "You have the recognition of other diverse groups out there—women, in particular, Latinos, Asians. Our database shows that from 2011 to 2012, there were 56 board seat openings—and most went to white women."