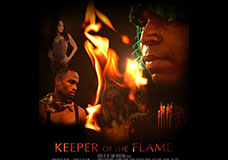 The BronzeLens Film Festival (BronzeLens) will kick-off its BronzeLens ReMix series with Keeper of the Flame, the first of two Best of BronzeLens films to be shown April 13 and 27, 7:00 p.m. at the Georgia Pacific Center Auditorium. Keeper of the Flame won the 2011 Audience Award for Best Short at the 8th Annual Patois New Orleans International Human Rights Film Festival and is writer/director/producer Brian Harrison-Nelson's (Big Chief of the Guardians of the Flame Tribe) debut film.. "The tribespeople unique experience as a community and the common thread that connects the tribespeople to the common American experience, in some way or another makes Keeper of the Flame a one of a kind Indian and African American film", said Harrison-Nelson.
The BronzeLens ReMix presentation of Keeper of the Flame will be preceded by a special 30 minute one act theatrical performance of If You Don't Like What the Big Queen Says, Just . . . produced by third generation Mardi Gras Indian Queen Cherice Harrison-Nelson. This one act piece invites the audience to capture Mardi Gras Indian traditions as well as the obstacles that Harrison-Nelson faces with his father, the late Chief Donald Harrison, Sr.
The star studded cast features New Orleans natives, including the legendary Big Chief Alfred Doucette, iconic actor Harold Sylvester, Drum Squad recording artist Brandi "Alley Baby" Fortune, and theatre and film actor, Kenneth Brown. The cast also stars actress Karen "Kaia" Livers, and actor Mykel Shannon Jenkins. The cast also stars actress Karen "Kaia" Livers, and actor Mykel Shannon Jenkins. A full feature commercial version of Keeper of the Flame is in the works that is also co-written by Greg Anderson, writer of the hit dance film STOMP THE YARD.
BronzeLens ReMix tickets are $10. Visit www.bronzelensfilmfestival.com for more information regarding the BronzeLens Film Festival and for registration information.
About the BronzeLens Film Festival
The fourth BronzeLens Film Festival takes place November 7-10, 2013 and is set to provide attendees with expert panels, workshops, domestic and international film screenings, pre-festival events and unique southern hospitality. Founded in 2009, The BronzeLens Film Festival of Atlanta, Georgia is a non-profit organization dedicated to bringing national and worldwide attention to Atlanta as a center for film and film production for people of color.