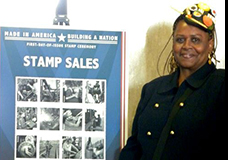 Harlem World Magazine reports…
We want to congratulate Evetta Petty of Harlem's Heaven Hats as she represented the Milliners Guild at the unveiling ceremony of the new postage stamp series, Made in America: Building a Nation on today Thursday, August 8, 2013 in Washington DC. Twelve new stamps were issued honoring the workers who were essential to the growth of the modern United States. Along with an airplane worker, a derrickman (a driller on a rig), and a Millinery apprentice (a woman sitting at a machine making a hat).
What an honor to have a Milliner on a postage stamp, Ms. Petty to represent the Guild and Harlem, and to be joined by U.S. Postmaster General Patrick R. Donahoe.