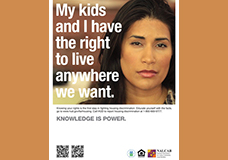 NALCAB—National Association for Latino Community Asset Builders ,  launched a National Fair Housing Media Campaign, to engage and inform African American, Latino, Asian Pacific Islanders and other communities about discriminatory housing practices, their rights under the federal Fair Housing Act, and HUD resources. This cutting-edge media campaign will engage people through a comprehensive national media effort as well as grassroots outreach.
The Fair Housing campaign was designed based on research that shows minority homebuyers and tenants are not always aware when they have been subjected to discrimination; that a large segment of the public is not even aware of the rights and protections afforded by the Fair Housing Act.
"We know that housing opportunities shape our access to jobs, educational opportunities for our children and even our health. Understanding our fair housing rights is key to protecting the American Dream, for each of us individually and as a nation collectively," stated Noel A. Poyo, Executive Director.
The campaign will include television and radio spots in English and Spanish, in addition to providing other materials in five Asian languages. While the outreach will be on a national level, the campaign will go deep into eight markets through targeted media and partnerships with community-based organizations. The target markets and organizations are:
Los Angeles, CA— New Economics for Women
San Antonio, TX— West Side Development Corporation
McAllen, TX— Affordable Homes of South Texas, Inc.
Birmingham, AL— Hispanic Interest Coalition of Alabama
Chicago, IL— The Resurrection Project
Brooklyn, NY— Make the Road New York
Metro Washington, DC— Latino Economic Development Center
Metro Denver, CO— Community Resources and Housing Development Corporation
NALCAB is also partnering with the National Coalition for Asian Pacific American Community Development (National CAPACD) and MEDA – Mission Economic Development Agency to increase nationwide engagement.