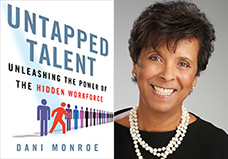 Author contact information: dmonroe@centerfocus.com  Dani Monroe has led the C-suites of Fortune 100 companies to success in global diversity, inclusion and organization effectiveness – favorably impacting their bottom line, reputation and business potential. Over a 20 year career, she has brought definition and depth to the dialogue about diversity and set the pace for change and precedence in strategies of global diversity and inclusion.
Most talent management books focus on the top talent and how to get them into the organization, leaving thousands of workers without training or organizational support. In Untapped Talent, Dani Monroe argues that these workers are the key to organizational success and that talent programs have to be developed to bring these critical and overlooked ones into the limelight to focus on their "untapped" potential. By focusing on mid-level or "B"/"C" employees, this book helps leaders to better understand the pool of traits and skills that they have access to in their existing workforce.
According to David A. Thomas, Dean and William Berkley Professor, McDonough School of Business, Georgetown University, "Untapped Talent is a must read for executives operating in global firms. It provides a fresh perspective on how organizations can gain competitive advantage through their workforce. Monroe challenges the tendency to divide our workforce into A and B players, developing the A's and ignoring the rest. The book provides a practical guide for leaders and companies that truly want to tap the full and often hidden potential of their workforces."
Upcoming book event — April 30, 2013, Boston College Club
The YWCA Boston invites you to celebrate Dani Monroe'snew book "Untapped Talent: Unleashing the Power of the Hidden Workforce" at the Boston College Club (100 Federal Street, Boston MA 02110) on April 30, 2013 ( 6 pm – 8 pm). Noted journalist Liz Walker will interview Dani Monroe. Each guest will receive a signed copy of the book. Tickets are $85. To register Click Here.
Dani Monroe, inducted into YW Boston's Academy of Women Achievers in 2000, is proud to donate proceeds from this event to support YW Boston's programs. With your help, YW Boston will continue our strong tradition of improving the lives of residents throughout the city as we work to promote racial and gender equity and build social cohesion.