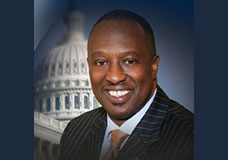 Ron Busby Sr., President of the U.S. Black Chamber, Inc. recently recognized the legacy and leadership of the Black Press. His statement is as follows:March 16, 1827 is a red-letter day for America's Black Press, celebrating the publication of the first issue of Freedom's Journal, this country's first Black-owned newspaper. As such, it is also a red-letter day for Black-owned businesses.Just imagine what Black-owned businesses would never have become unless Samuel Cornish and John Russwurm stepped out on faith and declared that "… too long have others spoken for us…" We know that there would have been no Ebony/Jet, no Black Enterprise, no Essence, etc. Obviously, there'd be no Chicago Defender, Pittsburgh Courier, Philadelphia Tribune, Afro-American chain and other "keepers of the flame."
But just about every other Black-owned business over the past 186 years owes a debt of gratitude to the Black Press. Without their commitment to "deliver the word," we would never have known where to eat, shop, stay, or travel. We would never have known about Black-owned banks and insurance companies, Black hair care companies, who's playing at the club Saturday night, or who's preaching Sunday!
And here we are in 2013, with a Black President, record growth in the number of Black businesses and — somehow — it seems we've forgotten what got us this far. I had the pleasure of spending a couple of days here in Washington, DC with the collective brain trust of America's Black Press.
These committed men and women still share the spirit of Russwurm and Cornish, but it seems that Black America no longer understands or appreciates the critical role our Black Press plays. Somehow "… we wish to plead our own cause…" has been supplanted by wave after wave of talking heads, pundits and cyberspace bloggers doing lots of talking — but not about "our cause."
One hundred eighty-six years after the first issue of Freedom's Journal, Black America still needs the type of forum only the Black Press can provide. Who is going to tell the truth about the failure of banks to adhere to the spirit of the Community Reinvestment Act? The Black Press! Who's going to tell us when our cities fail to administer Community Development Block Grants for maximum impact in "the 'hood"? The Black Press! Who's going to tell us when our elected officials need our help? The Black Press!