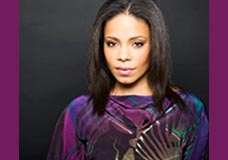 Just weeks after jumping on board the trend for celebrities to join Pinterest, Actress Sanaa Lathan's (The Best Man Holiday) 'Fashion Passion' Board ( http://pinterest.com/justsanaa/fashion-passion/ ) has been "pinned" as one to follow on Pinterest's New York Fashion Week Hub. The new hub, launched by Pinterest just one week before the coveted New York Fashion Week, features images and videos from several high-profile partners across fashion and media.
Pinterest partnered with over 100 influencers to populate pinterest.com/fashionweek and Sanaa Lathan's 'Fashion Passion' board will appear among the other high profile fashion influencers such as Rachel Zoe, Tracee Ellis Ross, Huffington Post Style, Oscar de la Renta and Kate Spade. Sanaa Lathan is new to the world of pinning the trending, however in a few short weeks she has acquired an impressive 13,000+ followers.
About Sanaa Lathan Sanaa Lathan is an actress best known for her roles in The Best Man, and its upcoming sequel, The Best Man Holiday, forthcoming role in Repentance opposite Academy Award® winner Forest Whitaker, Contagion, Love & Basketball , Brown Sugar, TV's "The Cleveland Show" and "Family Guy," her portrayal of Vera Stark in the Broadway play Meet Vera Stark and her intense performance as Mona Fredericks in the Starz original series Boss, alongside Kelsey Grammer.