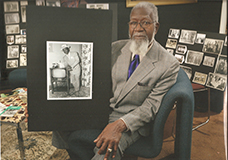 Let us remember that in the racially segregated 1950s and 1960s, many African American musicians, comedians, and other entertainers needed to find safe venues in which they could perform, visit, and on occasion, stay for short periods or reside. It was cities like Springfield, Massachusetts in the New England region that made a way for these talented icons– and people like James " JB" Bradley promoted them, helped them and connected them with communities.
James "JB" Bradley not only welcomed Black entertainers ( James Brown, Fats Domino, BB King, Ron Isley, Della Reese, etc), and other important luminaries including the Rev. Dr. Martin Luther King, Jr. and Muhammad Ali to Springfield, but also photographed them for his magazine, "Chat" and even served as an event promoter for their performances.
Bradley added a new history to the City of Springfield which was already known to produce the first American musket (1794), the first American-English dictionary (1805, Merriam Webster), the first American gasoline-powered car (1893, Duryea Brothers); the first successful motorcycle company (1901, "Indian) and the emergence of, basketball (1891, Dr. James Naismith).  Thanks to James Bradley's promotional efforts and talents in photography and publishing a African-American-centered journal, the City of Springfield developed a reputation for welcoming A-list African American entertainers and as well as having safe, affordable places for those entertainers to live and perform. In the process, he documented a vibrant Black New England community that embraced key figures of the time and became one of the most important chapters in African American regional history in New England.  Thanks to Mr. Bradley, the African American story was told with a dignity and grace that demands the attention of all generations. This interview was video taped at the Pan African Historical Museum, USA.