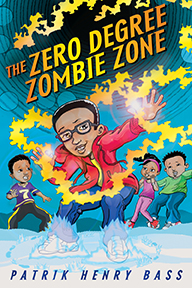 Scholastic proudly presents The Zero Degree Zombie Zone , a new action-packed fantasy adventure novel written acclaimed journalist Patrik Henry Bass and illustrated by award-winning and syndicated cartoonist Jerry Craft. This fun and magical tale about friendship features Bakari Katari Johnson, an unforgettable underdog character sure to warm the hearts of middle grade readers everywhere.
Meet new kid on the block Bakari Katari Johnson. Bakari is having a bad day. Tariq Thomas, the most popular kid in their class, is in his face—again! And here comes Keisha Owens with all of her bossy talking. On top of that, Bakari has found a strange ring that appears to have magical powers, and the people from the ring's fantastical otherworld want it back. It doesn't help that Bakari is so shy. And scared to speak up. And wishes he could hide under his desk in Mrs. Crump's class at Thurgood Cleavon Wilson Elementary. Well, at least he's got his best friend, Wardell, who's always there to help, even in the scariest situations.
Can Bakari and Wardell hold off the intruders' attempts, keep the ring safe, and stand up to Tariq and Keisha all in one day?
Patrik Henry Bass, editorial projects director at Essence magazine, is an award-winning journalist and frequent presence on radio and television.
Jerry Craft is the creator of Mama's Boyz, an award-winning comic strip that has been distributed by King Features Syndicate to almost 900 publications, making him one of the few syndicated African American cartoonists in the country.