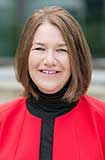 Census Bureau data just released shows the lowest gender pay gap on record; still women earn 21 cents less than men on the dollar. Little PINK Book, America's #1 digital platform for the nation's 72 million working women, today announced that Alison Lewis, CMO Johnson & Johnson Consumer Companies; Ann-Marie Campbell, President Southern Division, The Home Depot; Bill Burke, COO, Newell Rubbermaid; Linda Galipeau, CEO, Randstad NA; and Tami Barron, CEO, SouthernLINC Wireless will offer guidance and lead discussion on how to move more women into leadership roles during PINK's 11th Annual Fall Empowerment lunch on October 19th from 10:30am-2pm at the InterContinental Buckhead Atlanta Hotel. Panelists will tell their stories about earning the top job while enjoying the journey, and the personal price they paid for success.
Remarkable new data shows working women now choose more pay over less stress, more job advancement and even happiness! Women believe they can create a fulfilling life, but remain less optimistic about creating wealth and career advancements. Consider this:
• Women hold five percent of CEO positions at S&P 500 companies (Catalyst).
• 75% are confident they can attain life goals, yet only 27 percent are optimistic about achieving financial goals (Northwestern Mutual).
• Confidence plummets 60% within a few years of a new job (Bain and Company).
How can women negotiate better for pay and promotions? How can they speed up advancement? How can climbing the proverbial ladder be more fun? These questions and more will be answered at this year's event.