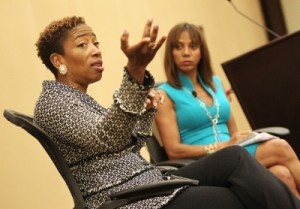 During the "Because We Care: The New Financial Normal" workshop hosted by The Black Women's Agenda, Inc. (BWA), Holly Robinson Peete (right) also spoke with panel participant Carla Harris, Vice Chairman, Global Wealth Management, Managing Director and Senior Client Advisor, Morgan Stanley. Harris was also presented with the BWA's 2015 Economic and Business Award.
Experts indicate that by 2020, the United States will need more caregivers than teachers.African-American caregivers are more than twice as likely as whites to report that caregiving is a financial hardship2, and evidence suggests that the cost impact of caregiving on the individual female caregiver in terms of lost wages and Social Security benefits equals $324,044.3
In March 2014, BWA and its National Collaborating Organizations launched the Because We Care initiative, a series of forums that provided thousands of women across the country with go-to information and resources to take better care of themselves and their loved ones. Building upon those forums, this morning's "Preparing for the New Financial Normal" workshop was designed to help African-American women become financially prepared to provide or receive care. More than 400 people attended the workshop, which featured actress, activist, and caregiver Holly Robinson Peete; AARP CEO JoAnn Jenkins, T. Diane Surgeon, eldercare legal expert and CEO of the Eldercare Resource Center in Lumberton, NC, and Dr. Katherine Y. Brown, founder of Learn CPR America and a noted health, wellness and women's empowerment advocate.