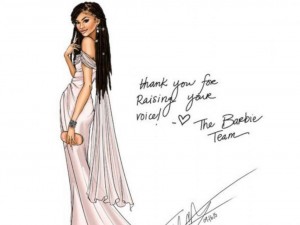 Barbie® is honoring Zendaya for encouraging girls to "raise their voices" with a one-of-a-kind doll to be presented at the Barbie™ Rock 'N Royals Concert Experience on September 26, 2015 at the Hollywood Palladium. The doll, created in her likeness, commemorates her iconic Vivienne Westwood look from the 2015 Oscars Red Carpet where she inspired people of all ages to stand up for themselves. Zendaya will host the Barbie Rock 'N Royals concert this month, an experiential event benefiting VH1 Save The Music Foundation.
"I'm excited to be a part of the new direction the Barbie brand is headed, specifically how they are celebrating diversity in the line and encouraging kids to raise their voices," said Zendaya. "It's a positive message to send to my fans, including my nieces who are coming with me to the concert."
Earlier this year, Barbie introduced more diversity into their Fashionistas® line including twenty-three new dolls, featuring eight skin tones, fourteen different sculpts, eighteen eye colors and twenty-three different hair colors.
The Barbie Rock 'N Royals event, hosted by Zendaya, will encourage kids to "Raise Their Voices" in a first of its kind experience including up-and-coming musical and dance acts, meet and greet with Zendaya and a rock star zone where kids can jam out on guitars, drums, trumpets and more instructed by music teachers and high school music students from Duarte Unified School District, a VH1 Save The Music partner school district. Allan Mucerino, the Duarte Unified School District Superintendent, is also expected to attend, along with 50 students from Duarte USD.
The brand will be activating nine concert experiences across the globe with different local hosts encouraging kids to raise their voices through the arts. Additionally, kids can join in and raise their voices at home with the new Barbie in Rock 'N Royals DVD and soundtrack which are available now at retailers nationwide.