MIT's 6th  Africa Innovate Conference was held at the MIT Media Lab and included a base of students, faculty, and vendors who are focused on the future of Africa. As an intimate showcase of the latest ideas and innovations in entrepreneurship, finance, healthcare, energy and education, the conference featured  panel presentation and keynotes that focus on efforts that contribute to the continent's development.
Keynote speakers (shown in the photo with UnityFirst.com's Janine Fondon)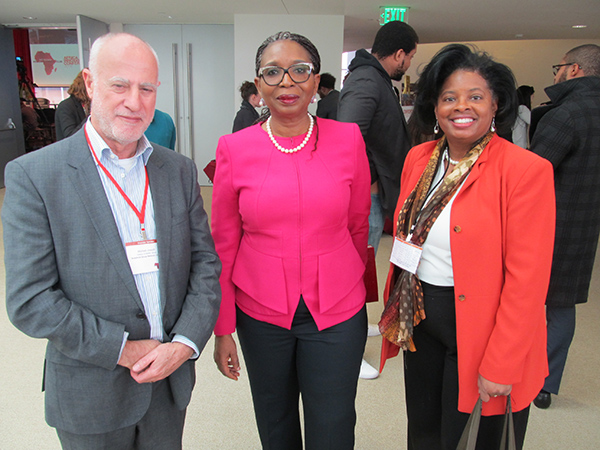 were Michael Joseph, Director of Mobile Money at Vodafone, in charge of strategic growth and development of M-Pesa across Vodafone footprint  and the chairwoman for the board of directors at First Bank of Nigeria, Ibukun Awosika
Panels covered the following topics:
AgriTech: How will innovations in agriculture aim to address the current and future needs of feeding the continent? What are new ways to address issues of hunger and distribution with innovative and sustainable methods?
CleanTech & Energy: As the population grows, how will traditional and renewable energy sources play a role in shaping the landscape of the future?
FinTech: Foreign investors, domestic markets and entrepreneurial pursuits are growing throughout Africa. What are the unique challenges, advantages and lessons to be addressed in finance?
EdTech: With the majority of Africa's population under 20 years old, how will innovations in the structure and delivery of education shape the future?
Telecomm: How have widespread telecommunications technology affected peoples' daily personal and professional lives? What will it take to address a new base of consumers and expand the offerings and connectivity on the continent?
Africa Innovate: Transformative Innovations for an Inclusive Future will be the theme of this year's conference because we believe that technology and innovation are some of the most powerful tools to define the future of the continent. The aim of the conference is to ignite deep conversations and proffer possible solutions around how technological advancement is happening in industries such as energy, finance, education, agriculture and telecommunication.
Please see more on this story on UnityFirst.com — click on the the tab named Tech World.