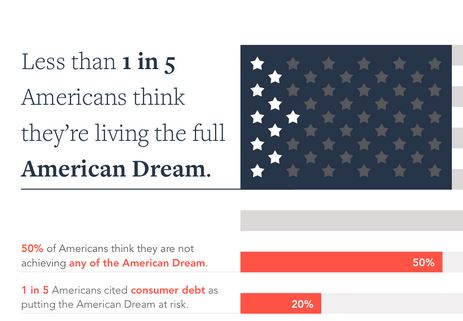 To compile the 2017 Hearth State of the American Dream Report, the data scientists at Hearth [https://www.gethearth.com/]-a fintech startup that helps homebuyers make smart financial decisions during renovations-surveyed 2,000 Americans about their sentiments on the elusive American Dream.
*** 2017 HEARTH STATE OF THE AMERICAN DREAM REPORT ***
>> FEWER THAN 1 IN 5 AMERICANS ARE FULLY LIVING THE AMERICAN DREAM
18% say they are fully living the American Dream, while 36% say they are living parts of it. 28% say it's within reach, while 18% think it's completely unattainable. The top 3 U.S. states living the full American Dream are Wyoming (40%), Delaware (38%), and Colorado (36%)
>> 75% OF AMERICANS THINK THE AMERICAN DREAM IS IN DANGER
Whether they are living the dream or not, many still consider the collective American Dream to be at risk. When asked why, Americans' top reasons were government policies (18%), income inequality (13%), household debt (11%), credit card debt (10%), and the prohibitive costs of purchasing a home (7%).
>> HOMEOWNERSHIP IS THE #1 ELEMENT OF THE AMERICAN DREAM
Ranking of the most important elements of the American Dream:
#1. Owning a home I love (19%)
#2. Affording rent and living expenses without hardship (15%)
#3. Starting a family (14%)
#4. Finding a fulfilling career (14%)
#5. Sending my child to college (10%)
#6. Building retirement savings (9%)
#7. Being able to afford luxuries (7%)
#8. Owning a car (5%)
#9. Earning more than my parents (social mobility) (3%)
#10. Owning a pet (2%)
>> CONTRARY TO POPULAR OPINION, MILLENNIALS DISLIKE RENTING
Although 49% of millennials currently rent their home, owning a home is crucial to them. 94% of millennials think homeownership is important to achieving the American Dream-with 55% saying owning a home they love is "very important."
>> 97% OF HOMEOWNERS THINK RENOVATIONS ARE IMPORTANT TO THE AMERICAN DREAM
55% of homeowners specify owning a home they love is crucial-and among all American homeowners, only 3% think they could achieve an American Dream home without renovations. Shockingly, 72% of homeowners would be willing to pay for these renovations with a credit card.
For more on this report, read: https://www.gethearth.com/american-dream-report-2017