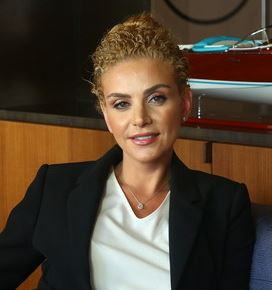 Lebanese women participate in the sixty-first session of the Commission on the Status of Women (C.S.W) under the theme of "Women's economic empowerment in the changing world of work" at the United Nations in New York.
Less than a year after her successful appointment as Chairwoman of the Board at Royal Financials SAL, Dr. Zeina Zeidan is heading in the coming hours to the United Nations' Headquarters in New York City to participate in the sixty-first session of the Commission on the Status of Women (C.S.W), at the invitation of the federation of Peace and Sustainable Development of the UN.
Under the auspices of C.S.W, a functional commission of the Economic and Social Council (ECOSOC) and the principal global intergovernmental body exclusively dedicated to the promotion of gender equality and the empowerment of women, the ultimate aim of the event is to look into women's strengthening role around the world especially through their economic enablement.
The participation of Dr. Zeina Zeidan Maalouli in the 61st session reinforces her pioneering role as the first woman to occupy a Chairman's position in a leading financial corporation in Lebanon. In a short period of time, Dr. Zeidan accomplished a great deal for the company, further emphasizing the role of Lebanese women in the business world as well as their impeccable professionalism regionally and globally.  Her participation is of significant importance, and holds multiple connotations, especially in light of the heightened feminist movement in Lebanon whose efforts have been directed towards modernizing, developing and reforming some rigid laws that continue to hinder Lebanese mothers and businesswomen every day.
This event will bring together representatives of the Member States, United Nations bodies and many non-governmental organizations from different parts of the world to assess the progress in the field of gender equality, identify key challenges and develop global standards and concrete policies that will help strengthen women's role. Since women's economic empowerment is one of the basic pillars of sustainable development, Dr. Zeidan's message will include an explanation on the role of women in Lebanon, sharing her success story and the challenges she faced to become the head of a leading financial institution.
Within this context, Dr. Zeidan emphasized the pressing need to take advantage of this opportunity to convey the true image of Lebanese women, who, day after day, are proving their capabilities and competencies in carrying out all kinds of responsibilities. Utilizing her position, she will urge companies to trust in the abilities of women, who constitute 35% of Royal Financials SAL's human capital, a number she hopes to increase to 50%.