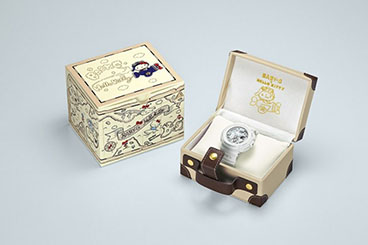 Special Model to Inspire Travel
Casio America, Inc. announced today the release of the latest addition to the BABY-G line of women's shock-resistant watches, based on the concept of "Tough and Cool." The BGA190KT is a collaboration model inspired by a globe-trotting Hello Kitty and will be available in two models.
The base model for the collaboration model is the BGA190, which is popular among avid travelers for Dual Dial World Time that simultaneously shows the time in two cities. Inspired by a globe-trotting Hello Kitty, the watch is designed to appeal to women who enjoy traveling. This is the second BABY-G collaboration timepiece with Hello Kitty.
The minute hand is decorated with Hello Kitty's trademark red ribbon, and the watch band is covered with Hello Kitty-style illustrations arranged like random passport stamps, to set the mood for travel. The back plate and special packaging feature an originally-designed pilot Hello Kitty to commemorate the collaboration. The BGA190KT is designed to inspire travel, extending to the special packaging that includes a box styled like a suitcase that is essential for every trip.
The special Hello Kitty BABY-G collaboration watch is available in two colorways, white (BGA190KT-7B) and black (BGA190KT-1B), and is equipped with shock- and water-resistance up to 100 meters, world time, daily alarm, stopwatch, and countdown timer capabilities, LED light, and 12/24 hour formats.
The BGA190KT will retail for $150 and will be available at Macy's, select fashion boutiques, shopcasio.com and at the G-SHOCK Soho Store. For more information about these women's analog-digital watches, visit http://www.baby-g.com/.
Casio's female timepiece brand, BABY-G, was created as a counterpart to its "big brother" G-SHOCK in 1994. The brand exemplifies the meeting of fashion and function for the vibrant, active woman with watches that are stylish, bold, tough and chic. Equipped with the same great functionality that G-SHOCK is known for, BABY-G timepieces are shock and water resistant with multiple daily alarms and stopwatch functions. The brand has partnered with some of the hottest names in music, fashion and pop culture on standout watch collaborations including Ke$ha, Rebecca Minkoff, Joyrich and Married To The Mob. For additional information on Casio's BABY-G line of timepieces, please visit www.baby-g.com.