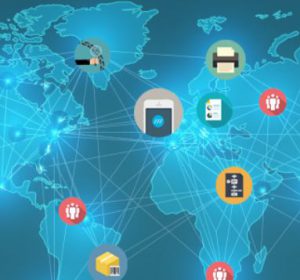 PITTSFORD, N.Y., Oct. 23, 2018 /PRNewswire/ — A consortium of international bankers, Papersoft Africa, and Digital Transformation company iVEDiX have teamed up to launch a transformative blockchain and digital currency initiative with exclusive contracts in place to roll out a secure cashless financial transactional system running on a blockchain backbone attached to an onboarding platform.  Within a well-designed global ecosystem, this fintech initiative is intended to support millions of entrepreneurs in Africa initially in, but not limited to, the Democratic Republic of Congo("DRC") and Somalia, impacting hundreds of millions of lives on the African continent and beyond.
This groundbreaking effort provides a solution to traditional banking and infrastructure bottlenecks by making electronic cash and banking available to anyone with a mobile phone and providing access to revolving funding to millions of entrepreneurs.  The initiative puts an emphasis on working with African organizations and designing solutions specific to a country's economic needs and goals, collaborating with governments and the private sector to identify priority areas for growth.  This mobile banking solution intends to reach millions of the unbanked who are currently locked out of the mainstream financial system and trapped in cycles of poverty.  The game-changing blockchain and onboarding platform will provide employment opportunities, access to markets and financial services, as well as create new sources of income generation in major African industries of agriculture, mining, financial services as well as other key sectors in the DRC and Somalia.
Serge Nawej, a shareholder of Papersoft Africa, and President of the Commission of Young Entrepreneurs (CNJE) of the Congolese Federation of Companies (FEC) in the DRC declared, "After four years of foundation setting and due diligence, we are excited to birth a unique, comprehensive and tangible mobile tech opportunity to financially empower and impact millions of young entrepreneurs throughout Africa.  Starting with DRC and Somalia, we are leveraging the opportunities of the demographic dividend and innovative fintech approaches to leapfrog conventional banking practices and allow Africans to gain access to formal financial markets and conduct personal and commercial banking transactions unlike ever before.  With our blockchain technology and unique onboarding platform, we are well poised to positively change the narrative around so-called "frontier" markets and the DNA of entrepreneurship in Africa."
Rajesh Kutty, founder and CEO of iVEDiX added, "Combining the proven technologies and expertise of iVEDiX and Papersoft (PPS-DMS) with the backing of the international banker group has resulted in an innovative, yet fully adapted technical and financial architecture that is addressing the most critical challenges faced by millions of entrepreneurs in Africa.  Mobile financial services using blockchain are growing quickly globally.  Kenya, for example, rolled out the M-Pesa in 2007 and transformed the mobile payment landscape for Kenyans.  A decade later, M-Pesa operates on three continents in 10 different countries.  BitPesa has also brought blockchain technology to Africa.  The proprietary software of iVEDiX will offer economic freedom and prosperity to individuals through the use of a transaction platform that 1) is orders of magnitude more affordable than any alternative, 2) is interoperable across mobile networks and 3) can process new financial tools."
Darin Pastor, who leads the international banker consortium and is globally recognized for his expertise in world banking and as an economic advisor to several heads of state throughout Eurasia, the Middle East and Africa remarked, "Following four years of working on innovative solutions to poverty in specific countries in Africa, I am so gratified to see our combined groups making such excellent progress with this immense challenge.  We are now positioned to provide the financial resources needed to stop abject poverty and end the severe deprivation of human needs."
Lives and Jobs
Africa's youth population is predicted to reach 750 million by 2030, and one billion by 2050.  The continent's population growth and the emergence of the innovations around digital economies provide us with a unique window to harness the potential of the vibrant demographic of the young entrepreneur.  World Bank estimates project Africa to have a working population of 1.1 billion people by 2034.  This boom requires a re-imagination of how we engineer both job creation and wealth creation.
Through this multifaceted initiative, the partnership is expected to equip upwards of 10 million entrepreneurs in Africawith innovative financing opportunities and income generation support over the next 36 months and impact hundreds of millions of lives.  The contemplated activities and support of entrepreneurship is a natural fit to address development and poverty alleviation goals and is aligned to each consortium partner's global business development strategies.  According to the World Economic Forum, smart phone usage in Africa is expected to reach at least 50% by 2020 – up from only 2% in 2010.
The continent is ripe for tech-based innovation being launched through the initiative.  The partnership is at the forefront of the innovation required to enable African economies to benefit from the rapidly accelerating technological advances of blockchain as well as digital currencies.