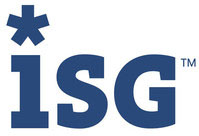 Thought leaders share insights at University of Texas at Austin, CFO Exchange in Florida
Blockchain experts from Information Services Group (ISG), a leading global technology research and advisory firm, spoke about the practical applications of this groundbreaking distributed database technology – one of the hottest and most disruptive developments in digital business today – at two events this week in Texas and Florida.
Blockchain is the underlying technology behind cryptocurrency and a host of enterprise applications supporting finance and accounting, the supply chain and contract management.
ISG Principal Consultant Alex-Paul Manders spoke this week before the Texas Cryptocurrency and Blockchain Club at the University of Texas at Austin. Manders talked to the group about the many applications of blockchain, its relationship to cryptocurrencies such as Bitcoin, the process of "mining" or transaction validation, as well as emerging industry laws and regulations.
"We are only at the beginning of the blockchain revolution," said Manders. "The opportunities in this space are already quite significant and, in the near future, potentially enormous."
A thought leader in blockchain technology, Manders most recently was quoted in an article in Supply Chain DIVE about the growing need for blockchain experts in a variety of fields. Manders also was quoted in a recent CIO Dive article, "4 innovative uses of blockchain in the enterprise," noting that beyond cryptocurrency, blockchains are being used to support startup funding mechanisms known as Initial Coin Offerings (ICOs), and for specific purposes, such as Ethereum for smart contracts.
In his presentation, Manders said blockchain and distributed ledger technology extend far beyond the cryptocurrency and tokenization applications for which they are best known, with practical applications in both the enterprise and consumer markets. Several large corporations are already deploying blockchain technologies, fueling what is likely to become a multitrillion-dollar market.
ISG also presented on blockchain technology at The CFO Exchange this week in Coral Cables, Florida, during an "Ignite" session led by ISG Partner Scott Furlong and ISG Director Dave Houston. The session examined why CFOs should consider blockchain applications in finance and accounting.
Furlong and Houston discussed how blockchain will impact financial and accounting processes and presented practical use cases for such workflows. "The benefits for using blockchain in finance and accounting include better data integrity, instantaneous or significantly quicker reconciliations, reduction in close time, more efficient audits, and better real-time financial information," said Furlong.
For example, Furlong noted that in Order to Cash activities with a buyer and seller, traditionally there are two sets of records, one for each side of the transaction, with both companies having to accommodate order and receipt verifications, discrepancy follow-ups, and payment verifications. Blockchain technology allows both buyer and seller to share the same version of the transaction, securely.
"The opportunities for smart contracts, too, are impressive," said Furlong. "Blockchain-based digital software apps would contain all the terms and conditions of a contract, and the system would deliver a verifiable, secure and immutable record of all related transactions – reducing overhead and service costs and simplifying compliance and reporting for both parties."