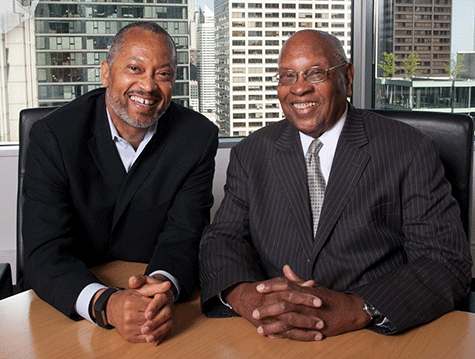 The Two Iconic Minority-Controlled Accounting Firms Join Forces to Grow Mitchell Titus's Footprint in Chicago and Throughout the Midwest and Expand Services of the Largest Minority-Controlled Accounting Firm Operating in Chicago
Founded in 1974, Mitchell Titus provides a broad range of assurance, tax and advisory services to Fortune 1000 companies, entrepreneurial enterprises, private equity firms, real estate entities, not-for-profit organizations, government entities and high net-worth individuals. From major corporations to social justice organizations, Mitchell Titus provides its diverse clientele with a deep understanding of matters ranging from accounting to regulatory compliance to governance best practices. Lester McKeever, Managing Principal at Washington, Pittman & McKeever, will become a Partner of Mitchell Titus.
"Lester McKeever is a legend in the accounting world, and we're proud that he is bringing his decades of experience, skilled personnel and extensive relationships to Mitchell Titus," said Anthony Kendall, Chairman and CEO of Mitchell Titus. "Washington, Pittman & McKeever has a strong brand in the Chicago area and has developed a talented workforce that understands the unique needs of its clients. We're happy to combine forces and bring an even broader set of assurance, tax and advisory services to the Chicago market and beyond."
Washington, Pittman & McKeever is known in the accounting world for its rich history and unique heritage. The firm was founded in 1939 by Mary T. Washington, the first African-American female certified public accountant (CPA) in the United States. Since that time, the company has grown to become one of the Midwest's most trusted professional accounting and consulting firms and its principals have been honored for their contributions to the community and their commitment to diversity. It is led by Lester McKeever, a CPA and attorney, who is the former Chairman of the Federal Reserve Bank of Chicago and former member of the Finance Committee for Chicago Mayor's Harold Washington and Richard M. Daley.
"We are thrilled to have Washington, Pittman & McKeever join forces with Mitchell Titus," said Lester McKeever, Managing Principal at Washington, Pittman & McKeever. "Our partnership with Mitchell Titus continues both firms' long tradition of excellence and significantly expands the portfolio of services we can offer our clients in Chicago and beyond. I look forward to ushering Washington, Pittman & McKeever into this new and exciting chapter in our firm's history and expanding Mitchell Titus's presence in our markets. The combined forces of Mitchell Titus and Washington, Pittman & McKeever have deep roots in the Chicago community and have a proven commitment to giving back to the communities they serve."
The acquisition enables clients of Washington, Pittman & McKeever to benefit from additional tax services, such as corporate and partnership tax compliance and planning, as well as extensive advisory services. Mitchell Titus also brings deep experience in organizational governance, risk management and steady expansion into other new service offerings, serving clients of all sizes, from individuals to several of the world's largest communication, defense and financial institutions.