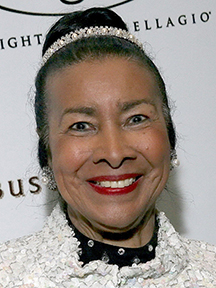 Civil Rights Leader Xernona Clayton will speak
 Xernona Clayton, who broke race and gender barriers in national broadcast TV and worked closely with Dr. Martin Luther King, Jr. to end racial inequality in America, will talk about her life and experiences at the 2018 Women's Leadership Conference (WLC).The conference, in its 12th year, is sponsored by The MGM Resorts Foundation. It will be held Aug. 27-28 at MGM Grand Conference Center in Las Vegas, NV.
"We are honored to have Xernona, a civil rights icon and philanthropist, appear at WLC," says Phyllis A. James, Chief Diversity and Corporate Responsibility Officer for MGM Resorts. "She has an incredible life experience of breaking glass ceilings in the 1960s, fighting against racial and social injustice and promoting recognition of African American culture and contributions to America through the Trumpet Awards. Her history and life's work will surely resonate with attendees."
Clayton is the Founder, President and CEO of the Trumpet Awards Foundation, Inc. and Creator and Executive Producer of the Foundation's Trumpet Awards. The Trumpet Awards, a prestigious annual event which recognizes outstanding African American accomplishments, has been televised annually for over 25 years and distributed internationally to over 185 countries around the world.
Clayton began her television career in 1967 and became the south's first African American to host a daily prime time television talk show. The Xernona Clayton Show was a regular feature on WAGA-TV, CBS affiliate in Atlanta. After joining Turner Broadcasting in 1979, she worked there for nearly 30 years as a corporate executive in a variety of roles, and became one of the highest-ranking female employees within the company.
Clayton worked with the National Urban League in Chicago to expose racial discrimination by white employers against African Americans, and later moved to Atlanta in 1965 where she worked closely with the late Dr. Martin Luther King, Jr. at the Southern Christian Leadership Conference. Clayton also traveled extensively with Mrs. Coretta Scott King on her nationwide tours.