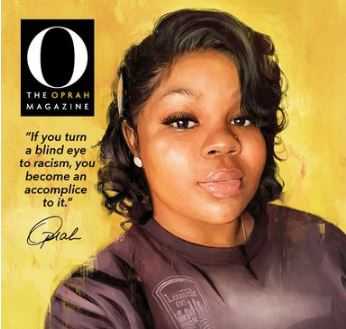 The historic September cover of O, The Oprah Magazine, features a portrait of Breonna Taylor created by 24-year-old artist Alexis Franklin.
According to The Oprah Magazines (https://www.oprahmag.com/life/a33515050/breonna-taylor-billboards-oprah-magazine-louisville/):
"Now, Oprah and our O team are further amplifying Breonna Taylor's story and the fight for justice in her name by erecting 26 billboards of the cover across her hometown of Louisville, Kentucky, beginning Thursday, August 6. Each billboard—one for each year of her life—features the cover image with a call to action that reads: Demand that the police involved in killing Breonna Taylor be arrested and charged. Visit UntilFreedom.com. The billboard also includes a quote from Oprah herself: "If you turn a blind eye to racism, you become an accomplice to it.
"Breonna Taylor's cover marks the first time in 20 years that the O of O was not featured on her magazine. Instead, Oprah chose to raise awareness about Breonna's tragic death: On March 13, 2020, she was shot and killed by Louisville police during a "no-knock warrant" raid. In the months since, just one of the three officers involved—Brett Hankison—has been fired, and neither he nor the two other officers, Jonathan Mattingly and Myles Cosgrove, has been arrested or charged in her death."