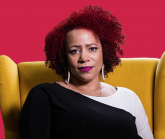 On June 30, the Board of Trustees of the University of North Carolina at Chapel Hill voted 9-4 to grant award-winning journalist Nikole Hannah-Jones tenure in connection with her appointment as the Knight Foundation Chair in Race and Investigative Journalism at the Hussman School of Journalism. The vote comes after unprecedented action by the Board to initially deny tenure upon her appointment as a Knight Foundation-endowed chair. In response, Ms. Hannah-Jones issued the following statement:
"I want to acknowledge the tremendous outpouring of support I have received from students, faculty, colleagues, and the general public over the last month – including the young people who showed up today at the Board of Trustees meeting, putting themselves at physical risk. I am honored and grateful for and inspired by you all. I know that this vote would not have occurred without you.
"Today's outcome and the actions of the past month are about more than just me. This fight is about ensuring the journalistic and academic freedom of Black writers, researchers, teachers, and students. We must ensure that our work is protected and able to proceed free from the risk of repercussions, and we are not there yet. These last weeks have been very challenging and difficult and I need to take some time to process all that has occurred and determine what is the best way forward."
Ms. Hannah-Jones is represented by the NAACP Legal Defense and Educational Fund, Inc. (LDF), along with co-counsel Levy Ratner, P.C. and Ferguson, Chambers & Sumter, P.A.