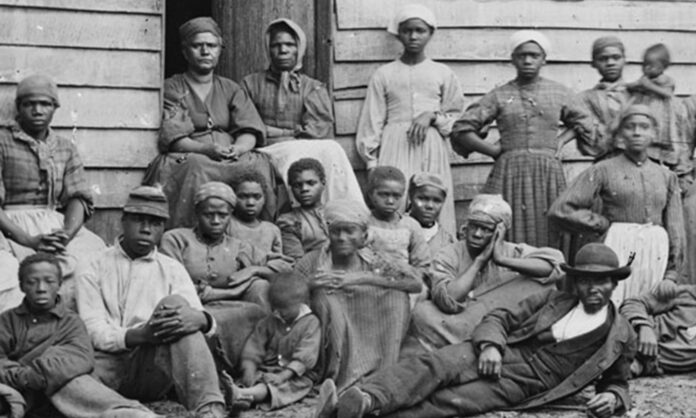 Photo credit: Civil War Women – Web source: Cumb 
By: Charles Blatcher, III
Chairman, National Coalition of Black Veteran Associations
April 25, 2021: For Immediate Release
The origin of this conversation began on the Facebook Page titled "Colonel Charles Young Memorial Tribute." The question was asked, "What price tag do we put on the inhumanity of slavery?" Think hard about that question because the subject of Reparation is resurfacing. Your answer says a bunch about your sense of value and humanity. We have all heard it said, "all money ain't good money." Accepting a cash pay-off for slavery and its inhumanities is not good money for the future of Black America. Personally, it is insulting to believe any amount of money is sufficient for the historical/contemporary harm inflicted by the institution of slavery.
The nation's wealth was accumulated on the backs of our ancestors. However, the payment should not be calculated in dollars and cents. It cheapens what we think of our own ancestors and the cruelty inflicted. The mistreatment is inexcusable, and no amount of money is enough as compensation. Historically our people's hopes and dreams were for Freedom, Liberty, and Justice. We should expect and accept nothing less today as reparation for past acts of inhumanities.
Public Education should be at the top of any conversation regarding Reparations. We need a better public education system to prepare our youth for productive roles in society. Let partial restitution focus on benefitting our future generations through vocational training and subsidize academic studies. We need additional Black scientist, biologist, medical doctors, engineers, educators, chemist, astronauts, oceanographers, electricians, carpenters, mechanics, etc., etc. Let our thinking be beyond what we want today, but for future generations of our people and the wellbeing of the Nation. Our History is an investment, let us not cash out or accept anything less than our forefathers and foremothers dreamed, equality and protection under the Law.
When you speak with your elected representative regarding Reparation remember our History is an investment. Give our youth priority consideration in our future through demanding for them quality and higher public education opportunity. Consider the following idea: Let us call this Reparations for Education concept
The concept calls for Standardize Public Education.
The concept is designed to provide students with incentive to maintain Grade Point Average (GPA). Graduate from High School with a …. 2.00 or Above…Paid Vocational Training
Graduate from High School with a ………GPA of 3.25 or Above….Free College Education Graduate from College with (BA or BS) with a …………… GPA of 3.50 or Above….Free Master's Program Graduate with a master's degree with a …………………. GPA of 3.75 or above….Free Doctorate Program
Let us educate a Black child for each of our ancestors once held in bondage. This would be an investment in the advancement of the race and nation as a whole. 
Thank you in advance for your consideration.
###
Contact Information: cnmmmf@aol.com