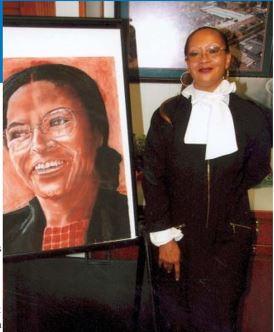 On the evening of December 1, 1955, Rosa Parks, an African American, was arrested for disobeying an Alabama law requiring black passengers to relinquish seats to white passengers when the bus was full. Blacks also were required to sit at the back of the bus. Her arrest sparked a 381-day boycott of the Montgomery bus system and led to a 1956 Supreme Court decision banning segregation on public transportation.
Rhea McCauley, niece of Rosa Parks,' thanks Pastor Dewayne Harvey for his song, "What the Lord Allows" in tribute to Aunt Rosa. "I am so thankful for his voice and willingness to be part of this special tribute. The Lord is allowing us to spread hope and courage, in the example of Rosa, as we pursue critical moments and movements in social justice. We are grateful that the Lord allows us all to move forward with grace and gratitude.
Dewayne Harvey commented, "It is a privilege to see that my hit song, "What the Lord Allows," a duet with Fred Hammond, has been endorsed by the Rosa Parks Family Foundation to honor this great leader in civil rights on the anniversary of what sparked the Montgomery Bus Boycott. I am humbled that the Rosa Parks Family Foundation and its leader Rhea McCauley heard the message of hope and motivation in "What the Lord Allows."
Check out the "What the Lord Allows" video on Youtube. To continue the work of Rosa, through the efforts of Rhea McCauley, please check out the GoFund me page. For more information on her efforts or to invite her to speak via zoom or on site (with COVID regulations) by send an email to jfondon@unityfirst.com.
"To bring about change, you must not be afraid to take the first step. We will fail when we fail to try."
-Rosa Parks.