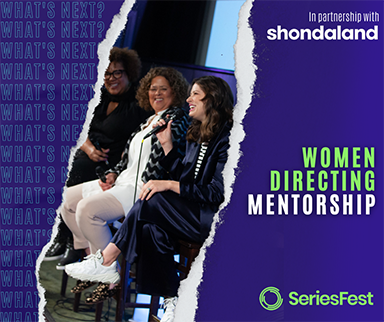 Continuing its mission to cultivate opportunities for female directors and creators, SeriesFest, the non-profit organization that champions and empowers artists at the forefront of episodic storytelling, announced the renewal of its partnership with Shondaland to launch the third cycle of the "Women Directing Mentorship," a competition designed to discover aspiring female directors with a unique voice and provide a launchpad for their career. SeriesFest is also continuing its "Executive Elevation Mentorship Program" to encourage diversity in the television landscape where aspiring creatives can foster relationships with established executives.
The "Women Directing Mentorship," which first launched in 2018 in partnership with Shondaland, the prolific storytelling company founded by Shonda Rhimes and long known for inspiring inclusion in front of and behind the camera, offers a unique opportunity for a rising female director to shadow an episodic director on a Shondaland produced series as a launchpad for their career. In addition, the winner receives a $5,000 stipend to use during the duration of their mentorship. The recipient of the inaugural mentorship, Rachel Myers ("Wendy's Shabbat"), shadowed director Tessa Blake on Episode 306, "Ice Ice Baby" of the Shondaland series, "Station 19" (ABC). Season two winner, Tamika Miller (award-winning commercial and narrative director), will be on-set once pandemic restrictions are lifted. Submissions to enter are open now until September 14, 2021 via www.seriesfest.com . The recipient will be announced in December 2021.
Since the inaugural year of the "Executive Elevation Mentorship Program" in June 2020, the initiative has provided a unique opportunity for emerging executives of color to network, learn from their mentors and hone their skills. For the second edition, the SeriesFest team partnered with six mentors whose executive skill set covered a wide range within the tv industry. Mentors participating this cycle include: Emmy-nominated writer, producer, showrunner Diallo Riddle ("Sherman's Showcase," "Late Night with Jimmy Fallon"); Aaliyah Williams, Producer and Founder, Just A Rebel (Netflix's "Gentefied," first-look deal with CBS); Samantha Militante, Director of Current Series at FX; Erich C. Smith, Agent at TCA; Eric Upshur, Executive Producer, Epic Studio Entertainment; and Ming Lee Howell, Unscripted Executive Producer ("Marriage or Mortgage" on Netflix, CNBC's "Cash Pad"). The mentees, selected by SeriesFest, have a six-month mentorship with one-on-ones with their mentor who advise on all aspects of their career and help create networking advancement opportunities. In addition, the mentees will have regular check-ins with SeriesFest and industry guest speakers to further their industry knowledge and connections.
"We are thrilled to continue these initiatives with the support of our incredible partners and mentors. They have, and continue to make, such a profound impact on the deserving recipients," says Randi Kleiner and Kaily Smith Westbrook, Co-Founders, SeriesFest. "After such an eye-opening year, continuing this mission to champion diverse voices has never felt more important."
"As a storytelling company, Shondaland is rooted in uplifting diverse perspectives and telling stories," says Shondaland's Head of Creative Production, Tom Verica. "A part of building the foundation for such storytelling is finding ways to continue championing equal representation in front of and behind the camera. We are incredibly excited to continue providing this opportunity for directors and look forward to the talent and creativity to come from the women in this program."
"I am thrilled to participate in this incredible program to help shape the next leaders in entertainment. It is always a joy to work with fresh talent and the SeriesFest team has done an incredible job selecting exceptional future leaders and artists of color that will no doubt continue to push the culture forward," comments Aaliyah Williams, Producer and Founder, Just a Rebel Productions and Executive Elevation mentor.
For more information about these initiatives and how to submit/participate, please visit www.seriesfest.com. Download logo here
SeriesFest: Season Seven will take place from June 24-July 11, with must-stream virtual events including panels, competitions and premieres available online. For more information about this initiative, how to submit/participate, and more information about SeriesFest: Season Seven, please visit www.seriesfest.com.
ABOUT SERIESFEST
SeriesFest, a non-profit organization, champions and empowers artists at the forefront of episodic storytelling by providing year-round opportunities for creators and industry professionals to connect, collaborate, and share stories, which inspire and impact global audiences. Each June, SeriesFest culminates in a highly-curated and celebrated Denver-based festival and marketplace. Dedicated to showcasing innovative episodic content, the annual festival includes in-competition independent pilot screenings, panels, workshops, live reads, parties and network television premieres. Follow @SeriesFest on Twitter.
SeriesFest is presented with the continued generous support from our partners: Xfinity, Denver Film, Once Upon A Time Productions, Liberty Global, Fries Foundation, Brownstein Farber Hyatt Schreck, Unreal Media, Dilettante Productions
ABOUT SHONDALAND
Shondaland is the pioneering storytelling company founded by award-winning writer and producer Shonda Rhimes. The company is rooted in the ideals of creating content that changes culture, changes perceptions and writes the future. Shondaland has an exclusive partnership with Netflix where it produces streaming content for the media company, including record-breaking series "Bridgerton," "Dance Dreams: Hot Chocolate Nutcracker, and upcoming series "Inventing Anna" and "Notes on Love." In recent years the company has expanded to produce content beyond television and streaming. In 2017, Shondaland launched the editorial website Shondaland.com. In partnership with Hearst Digital Media, the website features empowering and inspirational stories as well as first person essays and culture coverage. In 2019, Shondaland Audio was created in partnership with iHeart Radio. Comprised of both scripted and unscripted content, Shondaland Audio is the home for entertaining, inclusive and informative podcasts. Shondaland was launched in 2005 with the groundbreaking series "Grey's Anatomy."