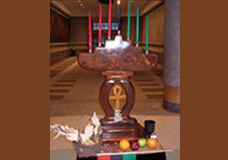 Kwanzaa is a week-long African American holiday observed from Dec. 26 through Jan. 1, which focuses on the traditional African values of family, community responsibility, commerce and self improvement. The name Kwanzaa is derived from the phrase, "matunda ya kwana" which means, "first fruits" in Swahili. On Friday, Dec. 28, African Burial Ground National Monument will celebrate Kwanzaa and would like you to join us.
The principle which coincides with our event is Ujima (oo-JEE-mah), the day for collective work and responsibility. Take part in family-friendly activities as African Burial Ground National Monument observes the principles of Kwanzaa and shares the history of the burial ground.
10:30AM: Traditional African Wire Doll Making by Ivelisse Pabon de Landron. Learn about the island of Puerto Rico and its Black traditional doll making craft.
11AM: Reflections of Honor and Glory. Enjoy an informative tour of the site's commemorative artwork guided by a National Park Service Ranger.
NOON: "Nguzo Saba" – The Meaning and Principles of Kwanzaa. This presentation, led by Cyril Innis, Jr., provides a comprehensive overview of this unique holiday's principles and meaning.
12:30PM: "The Black Nutcracker." Uptown Dance Academy will present a modernized rendition of Tchaikovsky's holiday classic featuring an eclectic musical blend and a range of dance styles. (75 minutes)
2PM: Kwanzaa Workshop by Pat Leonard. Learn about the cultural philosophy of Kwanzaa and Adinkra symbols as well as the ritual of Umma Nhuru Utumwa (Swahili for "people free from slavery.")
3PM: Ranger-led tour of African Burial Ground memorial
All events and activities are free and open to the public, but reservations are required for Kwanzaa programs. To RSVP call (212) 238-4367.
The Kwanzaa celebration will take place at the African Burial Ground National Monument, located on the first floor of the Ted Weiss Federal Building at 290 Broadway in Lower Manhattan, close to Foley Square and just north of City Hall. Upon entering the building, members of the public will have to go through security screening.