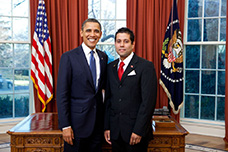 The organizers of the 2013 Ambassadors Inaugural Ball, which will take place on the evening of President Barack Obama's swearing-in to his second term of office, have announced the participation of several major sponsors who will help to assure the success of the event. "We are elated to have garnered commitments from a blend of supporters mirroring the diversity of the event itself," said Dr. Neil Parsan, Ambassador of the Republic of Trinidad and Tobago to the United States & Mexico, and a member of the host committee of the Ambassadors Inaugural Ball (which is co-chaired by illustrious Ambassadors to the U.S. from many countries around the world).
"From our presenting sponsor, GrupoMex (a multinational holding company) to Heads of State VIP Reception sponsor, ShuFund Capital (a financial services firm), we have managed to align our event with supporters and partners that have proven integral to what is expected to be an enormously successful event – honoring our President & Mrs. Obama."
Ms. Leticia R. Castro , GroupoMex's Chairman/CEO, released the following statement; "We look forward to being a great sponsor and contributor to the 2013 Ambassadors Inaugural Ball for the purpose of celebrating [ Barack Obama ] a great man and his family." Dr. Parsan also notes; "a key sponsor of the event that we would be remiss not shed special light on is LilyRose Cakes; a newly formed venture that specializes in decadent desserts. They will be providing a beautiful array of sweets for the dessert bar at the ball, and they are also aiding us in innumerable ways behind the scenes."
Mr. Robert Shumake, Honorary Consul of Botswana to the United States & head of ShuFund Capital, said; "As not only an active supporter of the Ambassadors Inaugural Ball, but also a member of the host committee, my team and I take very seriously the purpose and scope of this wonderful event. We are bringing together representatives of many nations to celebrate a historic event – while raising support and awareness for a number of humanitarian and charitable organizations that will benefit from event proceeds."
Additional sponsors for the Ambassadors Inaugural Ball include THAO, Inc. (a health and human services consulting firm), and Signet Jewelers (the world's largest specialty retail jeweler).