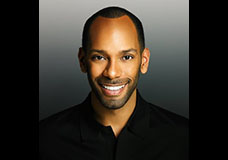 Fashion Fair Cosmetics, the prestige cosmetics brand for Black Women, known for breaking barriers in the world of beauty, announced today it will begin celebrating its 40th anniversary year in 2013 by introducing the Sam Fine Fashion Fair Supreme Color Collection. Inspired by his observations of colors during his international travels, Sam Fine , Fashion Fair Cosmetic's Creative Makeup Director and legendary makeup artist, has revolutionized the beauty landscape once again.
"What better way to kick off Fashion Fair's 40th anniversary than to deliver a new luxe makeup collection," said Clarisa Wilson , president, Fashion Fair Cosmetics. "For more than a decade, Sam has created spectacular looks for the most beautiful women in the world; the Sam Fine Fashion Fair Supreme Color Collection takes his vision a step further."
Fine translates his tips and expert techniques into trend-setting, head-turning looks that all women can achieve at home.
"It's been such a privilege to work with Fashion Fair to create this inspired collection," says Fine. "As a pioneer in the cosmetics industry, Fashion Fair has truly changed the way we approach beauty. I'm excited about the future."
With the launch of the Sam Fine Fashion Fair Supreme Color Collection, women are even more empowered to create signature, glamorous looks on their own. Showcased in ornate gold packaging, the Sam Fine Fashion Fair Supreme Color Collection features two eye shadow quads, eight lipsticks and a golden lip gloss:
· Eight Supreme Lip Color Shades: This luxurious formula has an ultra-creamy texture to guarantee incredibly smooth application and rich color payoff. Specially treated pigments are blended to deliver pure, intense color with the perfect hint of shine.
Colors include: Champagne Toast, Whispering Rose, Deep Suede, Pink Parfait, Moroccan Spice, Dynasty Red and Cognac African Violet
Suggested Retail Price: $22.00
· Two Supreme Eye Color Quads: Each Eye Color Quad is designed with four opulent, complementing shades to achieve multiple looks, from a bold, smoky eye to a sexy, glam eye look enhanced with pops of color. Featuring a variety of finishes for luxe effects – sheer sparkle, satin, shimmer and matte – these Eye Shadow Quads deliver smooth, long-lasting color.
Colors include: Tunisian Nights and Amalfi Coast
Suggested Retail Price: $38.00
· Supreme Shine Lip Gloss: A high-shine, sheer golden shade designed to enhance your pout for a glamorous look, this luscious, non-sticky gloss can be worn alone or layered over lip color to add dimension.
Colors include: Canary Diamond
Suggested Retail Price: $20.00
The Sam Fine Fashion Fair Supreme Color Collection hits counters Jan. 15, 2013. It is available at select stores including Macy's, Lord & Taylor, BonTon, Belk, Dillard's and on fashionfair.com.