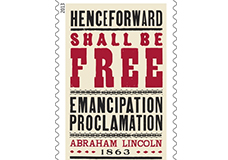 With this 2013 stamp, the U.S. Postal Service commemorates the 150th anniversary of the Emancipation Proclamation , which President Abraham Lincoln signed on Jan. 1, 1863. To commemorate this milestone, the Postal Service introduced a limited-edition Forever Stamp today at The National Archives in Washington, D.C., which houses the historic document.
The Emancipation Proclamation Forever Stamp goes on sale tomorrow at Post Offices nationwide, and can be purchased online at www.usps.com/stamps or by phone at 800-Stamp24 ( 800-782-6724).
The Emancipation Proclamation Forever Stamp represents freedom and is the first in a series of three Civil Rights stamps to be released in 2013. The remaining stamps in the series, to be issued later this year, mark enduring moments of courage and equality in the civil rights movement by featuring Rosa Parks and the March on Washington.
"Stamps often tap into our culture and help us remember the events and people who have had an impact on American history," said Deputy Postmaster General Ronald A. Stroman. "The Emancipation Proclamation was a powerful symbol of President Lincoln's determination to end the war, to end slavery, and to reconstruct the economy of the country without slave labor."