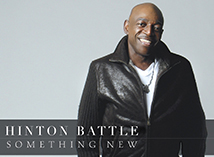 A masterful powerhouse, three-time Tony Award winner Hinton Battle continues to make waves on the entertainment scene, both internationally and domestically.Battle, who recently released a new CD, a dazzling set of classic jazz favorites titled "Hinton Battle: Something New," has also spread his artistic tentacles overseas. A Tokyo-based TV Network will soon begin airing his new dance audition project, "Road To Broadway Produced by Hinton Battle," during their popular Japanese program, "Hakkutsu-Berry." Hinton's new show aims to discover and cultivate proficient young Japanese dancers who have Broadway aspirations, and work with them to attain that dream.
Closer to home, Mr. Battle has signed on as Choreographer for the Jones-Haywood Dance School in Washington, DC. Founded in 1941, the school has trained students of all races and socio-economic backgrounds, who have gone on to perform with the Alvin Ailey Company, the Royal Netherlands Ballet, the Paul Taylor Dance Company, Philadanco, the Washington Ballet and several Broadway productions, as well as some beginning careers as choreographers and dance educators themselves. Hinton will add his skillful brand of creativity and dance savvy to their curriculum.
With his worldwide influence, the brilliant, accomplished Hinton, who is perhaps best known for his stand-out performance as the Scarecrow in the memorable Broadway production of "The Wiz," has delighted audiences for three decades on Broadway, including turns in "Dreamgirls," "Sophisticated Ladies," "Ragtime," "Miss Saigon," "The Tap Dance Kid" and "Dancin." He has also done television and film appearances, including "Touched By An Angel," ABC's "Smash" and "Buffy The Vampire Slayer" on the small screen and the "Dreamgirls" film adaptation on the big screen.
Commonly called a triple threat (singing, dancing, acting), Battle's talents are not a threat – indeed, they're a promise! To witness this consummate performer in action is to be given an exciting, special gift. Like a rare diamond, Hinton Battle is a one-of-a-kind gem, whose brilliance is undeniable.