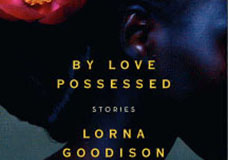 One of literature's best kept secrets, internationally renowned and award-winning poet Lorna Goodison, author of the critically-acclaimed memoir From Harvey River, charms once again in BY LOVE POSSESSED (Publication Date: May 29, 2012; $14.99) with prose and characters as vibrant as the country she describes-her homeland Jamaica.
ELLE calls BY LOVE POSSESSED "[a] matchless mosaic portrait of a rapidly vanishing postcolonial time and place," where Goodison "taps deeply into universal experience and offers up these lives with brutal honesty and poignant humanism." BY LOVE POSSESSED – in twenty-two patois-filled narratives – invites readers into a world where pride can nourish a soul or be its ruin, where people are in turn uplifted and undone by love.
In "The Helpweight," an accomplished woman must bear the burden of an old flame's renewed affections when he returns to the island with his Irish bride in tow. In "Henry," a young boy, forced from his home to make way for his mother's new boyfriend, finds himself homeless, selling roses on the street to survive. On a whim, he bites off a bloom and "can feel it burning inside his hot mouth like a red pepper light." He stands hoping that he rose he swallowed "is even now catching, taking root in his life." In "The Big Shot," an arrogant youth rises up from humble beginnings to a life of wealth and success only to be shaken when his hubris collides with the past that haunts him. And in the Pushcart Prize-winning title story, "By Love Possessed," humble Dottie thinks her luck has turned when she meets Frenchie, the best-looking, if not most reliable, man in the whole of Jamaica.