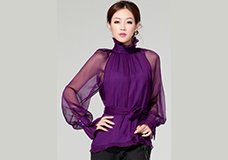 Impressive online shopping sales figures in China demonstrate that Chinese online fashion retailers such as Xiu.com have revived not only the European fashion industry but also the global fashion industry. Xiu.com, a leading online fashion retailer in China, recently released its 2012 interim sales performance figures. Its sales revenue has tripled, with 80% of its sales brought in from imported brands. In contrast to Xiu.com's rapid (geometric) growth, Net-a-porter, a pioneering premier luxury online fashion retailer, announced a deteriorating sales trend that began in April 2012.
Xiu.com is determined to be a leading online retailer for luxury and fashion. Up until now, only 60% of its products (perhaps less in the future) are available from other local online retailer platforms. The website has successfully differentiated itself from local competitors that are struggling in a price war. The premier online retailer is a good platform for new foreign fashion icons to establish their positive brand presence in China. Havaianas, a famous Brazilian brand for flip-flops, has been put on the shelves of Xiu.com for its long waiting supporters in China; Henri J.Sillam, the renowned Austrian jewelry brand started its collaboration with Xiu.com earlier in April; and Babakul, an American designer brand has just started to celebrate its arrival through the online retailer in July.
Xiu.com is the only Chinese online fashion retailer listed in "The Digital 100" this year, according to a Business Insider report featuring the world's most valuable startups in 2011. The website has successfully differentiated itself by franchising collections of many foreign labels that have limited local presence in the Chinese market such as BCBG, Babakul, etc. More and more brands are adopting a similar approach to tap into China's market.
In 2012, Xiu.com has acquired a number of franchises from a variety of global brands, namely IMAGE from Japan and The Children's Place and American Apparel of the United States. Apart from playing the role of a direct dealer, the online retailer website works closely with other e-commerce platforms such as Karmaloop and JP Selects.
George Ji, CEO of Xiu.com, says that the website manages franchises for over one hundred new foreign brands. "Our sales performance has proven to the world that e-commerce is indeed an effective way to reach Chinese consumers with high purchasing power."
High potential of the online shopping market in China
The European consumer market remains in the doldrums due to the ongoing financial crisis. The United Kingdom is no exception. According to the Office for National Statistics of the United Kingdom, sales volumes in April 2012 recorded the largest fall in year-on-year growth in the past two years, predominantly driven by clothing and footwear.On the other side of the world, China has emerged as a huge and untapped market for fashion.
The fashion market in China is expected to exceed 1.3 trillion RMB by 2010, according to a report by The Boston Consulting Group (BCG). However, benefiting from the growth is not guaranteed. Local players in the fashion industry are still in their infant stage of development despite the huge market demand.
With the presence of the world's largest and most active e-commerce consumer group in China, what would be better than online marketing if you are new to the market? Despite the under-developed delivery infrastructure in the vast country, low costs and quick access to potential customers have made China the first choice for those looking to enter a new market.
An appropriate strategy for e-commerce
Given that Chinese consumers are already overwhelmed with regional and local online retailing platforms, online marketing does not necessarily imply success for your business. Choosing the right online retailing platforms with clear brand positioning and uniqueness is the winning secret to successfully tapping into the Chinese market.
"Xiu.com is committed to its position as an up-scale online department stone which fosters the growth of foreign brands in China's market. With our assistance, they can benefit from the booming Chinese market and establish their brand presence," said George Ji.