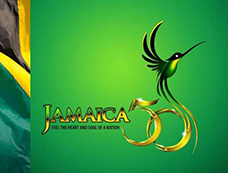 On August 6, Jamaica will celebrate its Golden Jubilee — the 50th anniversary of its independence. Jamaica National Day was first celebrated on August 6, 1962 by raising the national flag which signified the birth of the nation and its status as an independent country and a member of the British Commonwealth.
In Jamaica, the celebrations will occur at various locations across the country beginning with the Jubilee Village, which will be constructed at the Independence Park Complex (St. Andrew), where the key events will take place between  August 1-6. The event s will unfold at 'Jubilee Village' which encompasses a number of venues along Arthur Wint Drive.The National Arena will house an Exhibition Hall to showcase Jamaica over 50 years and will include an introduction to the Jamaica Sports Museum, which will be established as a Jamaica 50 legacy project.
Watch for Jamaica 50 activities to be held in the United States and Canada. In New York, JOIN OLIVER SAMUELS  and  Jamaican VIPS for the  JAMAICA 50  New York CELEBRATION (http://www.jamaica50anniversary.com )  located at the Roberto Clemente State Park in the Bronx.