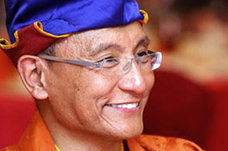 The recent two-day annual Hemis Festival by the Drukpa Buddhists was celebrated at the Hemis Monastery in Leh,India with a roaring attendance of more than 75,000 guests from all over the world and blessed by Ladakh's spiritual head, His Holiness the Gyalwang Drukpa.
Celebrated on the 10th and 11th day of the 5th lunar month, the Hemis Festival marks the birth anniversary of Guru Padmasambhava or Guru Rinpoche, the 8th century Indian guru revered for spreading Tantrayana Buddhism throughout the entire Himalayas. The courtyard of Hemis Monasteryis the permanent venue for the celebrations.
The Drukpa Lineage has more than a thousand monasteries in Tibet, Bhutan, Ladakh and other parts of Himalayas and the legacy of guiding countless beings on the path of Dharma and ultimate enlightenment for more than 800 years. Hemis Monastery is the largest monastic institution in Ladakh. It belongs to the Drukpa Lineage or the Dragon Order of Mahayana Buddhism, with His Holiness the Gyalwang Drukpa as its supreme spiritual head.
The Drukpa Buddhists follow the Mahayana Buddhist tradition in philosophy, i.e. the philosophy of "getting enlightened for the benefit of others" and the methods are based on the Tantrayana teachings passed down from the great Indian saint Naropa, born in 1016. "Druk" in means "Dragon" and it also refers to the sound of thunder. In 1206, the first Gyalwang Drukpa saw nine dragons fly up into the sky from the ground of Namdruk, and he named his lineage "Drukpa" or "lineage of the Dragons" after this auspicious event.
Drukpa Buddhists celebrated the legendary Hemis Festival with great enthusiasm. The festival duration is marked as a local public holiday, and involves the entire city.