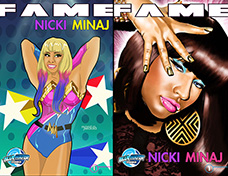 Bluewater Comics has  introduced the latest in its popular 'Fame' series, which focuses on the lives of celebrities. "Fame: Nicki Minaj", the new comic book, is now out both digitally and in print.
From her humble beginnings in Jamaica to her humble upbringing in Queens New York to her spotlight alongside high profile judges on the Panel of American Idol, Nicki Minaj came to conquer, to win, and she did.
"Fame: Nicki Minaj" is written by Michael Troy and drawn by Jill Lamarina.  There will be two covers for this issue, one by artist Jill Lamarina and one by Jonathan Woodard. Both will be available in print as well as digital.  To order "Fame: Nicki Minaj" exclusively at Comic Flea Market in print for $3.99 .
Digital copies will also be available for $1.99. Download the comic to your e-reader from iTunes, Amazon, Barnes and Noble, Kobo, ComiXology, Google Books, DriveThru Comics, Wowio, iVerse, and more.
The company produces three lines of biography comics: Female Force, Political Power and Fame. Each line has produced comics that have sold out of their original runs at a time in which independent comics companies are struggling to gain an audience. Upcoming comic book biography titles are FAME: Robbie Williams and Adele.