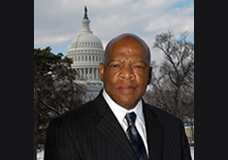 Members of Phi Beta Sigma Fraternity, Inc. (PBS) are invigorated by their passionate return to Washington, D.C. to celebrate the 50th Anniversary March for Jobs and Freedom. On Saturday, August 24, 2013, Honorable Congressman John Lewis joined his Sigma Brotherhood members, such as Jonathan A. Mason, Sr., International President of Phi Beta Sigma Fraternity, Inc. and Reverend Al Sharpton, Founder of National Action Network to commemorate the historic "March On Washington" 50 years later.
The campaign aptly called "Thunder Back" is a clarion call to Phi Beta Sigma Men nationwide to travel to the nation's capitol to commemorate one of the largest gatherings of African Americans and reignite the fight for human rights and justice for all people. In tribute to the courageous Freedom Riders of 1963, Phi Beta Sigma men and their supporters will board buses in seven major cities and travel to Washington, D.C. to march with citizens from around the nation. The cities where buses will be boarded are Atlanta, Charlotte, Chicago, Detroit, Memphis, New York and Philadelphia.
"I am honored Congressman John Lewis, the only person living who spoke from the podium at the first March On Washington 50 years ago and Hank Thomas, an original 1963 Freedom Rider, are participants in our 'Thunder Back' initiative," said Jonathan A. Mason. "Though we have accomplished many of the objectives Dr. Martin Luther King, Jr. spoke of 50 years ago, our work is not yet done. Thus, we return to Washington, DC to march for jobs, justice and equality!" Mason added.
As the leading proactive community services organization, Phi Beta Sigma through its Thunder Back campaign is encouraging its chapters to reach out and recruit Zeta Phi Beta Sorority, Inc. sisters, Sigma Beta Club members and extended campus and community supporters to be participants in the historic celebration.
Phi Beta Sigma Fraternity established in 1914 on Howard University is a global organization with over 450 chapters and 150, 000 members. To learn more visit www.phibetasigma1914.org