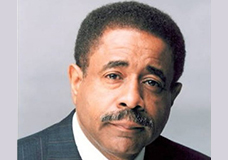 Let us take the time to remember a diversity and inclusion pioneer – Dr. Roosevelt Thomas – who thoughtfully advised corporations on diversity management. The funeral service for Dr. R. Roosevelt Thomas, Jr. of Decatur, GA was held On Friday, May 24, 2013.
Over the past 15 years, Dr. R. Roosevelt Thomas, Jr., has been at the forefront of developing and implementing innovative concepts and strategies for maximizing organizational and individual potential through Diversity Management. He was CEO of R. Thomas Consulting & Training, Inc., and President of The American Institute for Managing Diversity (AIMD).
In 1984, concerned about the inability of America's organizations to maximize the contribution of diverse employees, Dr. Roosevelt Thomas founded AIMD as a non-profit research and education enterprise. He and his staff became known as the seminal source for managing diversity concepts and strategies. The team focused initially on workforce diversity. They later expanded their focus to create a diversity framework for addressing general management issues such as change management, functional coordination, the integration of multiple lines of business, and acquisitions and mergers.
Thomas authored five published books: The Giraffe and Elephant: A Diversity Fable (A publication of the American Institute for Managing Diversity, Inc., 2002); Building a House for Diversity: A Fable about a Giraffe and an Elephant offers New Strategies for Today'sWorkforce (AMACOM, a division of the American Management Association, 1999); Redefining Diversity (AMACOM, 1996); Differences Do Make a Difference (AIMD, 1992); and Beyond Race and Gender: Unleashing the Power of Your Total Work Force by Managing Diversity (AMACOM, 1991).
Dr. Thomas earned a D.B.A. in Organizational Behavior from Harvard University, an M.B.A. in Finance from the University of Chicago, and a B.A. in Mathematics Summa Cum Laude from Morehouse College, where he was elected to Phi Beta Kappa. He has also served as Secretary of Morehouse College, Dean of the Graduate School of Business Administration at Atlanta University, assistant professor at the Harvard Business School, and instructor at Morehouse College.
In 1998, the National Academy of Human Resources elected and installed Dr. Roosevelt Thomas as a Fellow. Roosevelt Thomas had been active for more than 20 years as a consultant to numerous Fortune 500 companies, corporations, professional firms, government entities, non-profit organizations and academic institutions, and he has served as a frequent speaker at national conferences and industry seminars.
In lieu of flowers contributions in memory of Dr. Thomas may be made to "Save Our Students Academy (SOS), a youth violence prevention/ enrichment program and a 501 (c) (3) tax deductible organization, www.sosal.com. For more information, please call Program Director, Allen Johnson at (678) 901-9376.