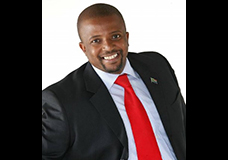 Vuyo Mbuli, one of the most popular journalists in South Africa, has died. Vuyo Mbuli (1967 – 2013) was a South African TV and radio presenter and broadcaster who was best known for anchoring the South African Broadcasting Corporation's breakfast show Morning Live.
Vuyo made his TV debut in 1993 as a continuity presenter on SABC and went on to be signed as one of the founding anchors of Morning Live when the show premiered on 1 November, 1999. He started his radio career on SAfm in 1995 and remained with Morning Live until his death on 18 May 2013.
He died after collapsing at the Free State Stadium in Bloemfontein where he was watching a Super Rugby match between the Cheetahs and the Reds. He was rushed to hospital where he later died.
Recently he celebrated his 46th birthday on air on May 14, 2013, a birthday he shared with his daughter According to one report, "Mbuli was blessed with good looks, was sophisticated and part of the black elite that gained prominence and a grander social standing after 1994– however,  he never forgot his humble beginnings.."
In 1996 he was the SABC Anchor in Atlanta, Georgia for the Olympic Games Coverage. He has interviewed a wide range of celebrities, politicians, sports persons as well as International Guests and Dignitaries. He has also interviewed Nelson Mandela the former President of South Africa