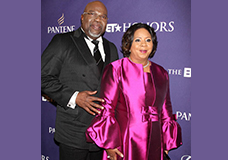 For the first time in its nine-year history, Bishop T.D. Jakes is bringing MegaFest home to Dallas and it runs from August 29-31, 2013. MegaFest is the largest family-oriented inspirational festival of its kind—and will feature popular speakers including Houston-based Lakewood Church Pastors Joel and Victoria Osteen .
MegaFest combines four of Jakes' most popular conference series, ManPower, Woman Thou Art Loosed, MegaYouth and MegaKidz, all under a single, unified event.
Tens of thousands of people are expected to attend from some 40 countries. The three-day festival will be primarily held at the Dallas Convention Center and American Airlines Center.
Family-Friendly Getaway Hosted by Bishop T.D. Jakes, MegaFest offers a positive, family-friendly experience that includes stimulating workshops, high-energy performances by award-winning music artists, and cutting-edge special events for all ages. The festival offers educational, entertaining and empowering activities for men, women, young adults, teens and children including: •Just Churchin ' Comedy Show •Women of Purpose concert, which will honor women, both locally and nationally, who are making a difference in their communities •Celebrity Basketball Game •MegaYouth /MegaKidz concert events •International Film Festival •A Family Expo •Family Fun Zone •Jazz in the Park
As the fourth-largest metropolitan city in the nation and the No. 1 visitor and leisure destination in Texas, Dallas offers a variety of activities for the whole family to enjoy. •Dallas is home to the largest urban arts district in the nation, thirteen entertainment districts, an array of high-end hotels and restaurants and some of the best shopping in the southwest. From amusement parks to engaging museums to world-class sporting events, there is something for everyone in Dallas. •Dallas is a diverse city with a melting pot of cultures and lifestyles. The Dallas population has a racial makeup of 28.8 percent White, 24.6 percent Black and 42.4 percent Hispanic with a median income of $40,650 and a median age of 31.8 with 28.9 percent of the population holding college degrees.
Registration for MegaFest is currently open. A special early-bird registration price of $40 for adults and $20 for youth and children continues through March 1, 2013. For more information, or to register for this family-friendly event, visit www.mega-fest.com.