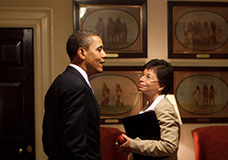 Valerie B. Jarrett, Senior Advisor to President Barack Obama and Chair of the White House Council on Women and Girls, will address the some 600 members of the Class of 2013 and an international audience of their family and friends at Wellesley College's 135th Commencement Exercises Friday, May 31, at 10:30 a.m.
"We are delighted to welcome Valerie Jarrett to Wellesley as our 2013 Commencement speaker," said president H. Kim Bottomly . "As a successful and influential leader in public service, Ms. Jarrett is a wonderful selection by our students because she exemplifies so well Wellesley's strength in preparing women for purposeful leadership. "
Unlike many other colleges and universities, Wellesley's commencement speaker selection process is student-driven.
According to students, Jarrett is an ideal choice to address graduates of a leading liberal arts institution known for its remarkable track record of introducing women's voices into traditionally male-dominated spheres of power. Senior Class Co-Presidents Vivian Hu '13 of Bellaire, Texas and Anoush Youssoufian '13 of Boston, Mass. said, "We are incredibly excited to host Valerie Jarrett as our commencement speaker this year. As one of the most influential leaders of our time, she is the embodiment of Wellesley's core ideals of women who will make a difference. She is at the pinnacle of her career and is the epitome of a go-getter. She embodies what we believe our class can achieve with the advantage of our Wellesley education."
Named "The Other Power in the West Wing," by The New York Times, Jarrett is widely considered to be one of the most powerful people in the Washington. She is also an outspoken advocate for women. When Jarrett spoke at a February 2012 event aimed at increasing women's political participation, she said, "My parents raised me to believe that if I worked hard and I focused on my goals, there were no limits to what I could accomplish. My responsibility as the Chair of the White House Council on Women and Girls is to help ensure that all women and girls have that same opportunity."