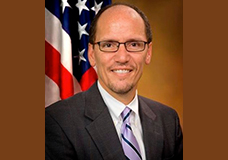 The National Association of Latino Elected and Appointed Officials (NALEO) announced that the U.S. Secretary of Labor Thomas Perez will address the largest gathering of Latino policymakers in the country on Thursday, June 26 at the NALEO 31st Annual Conference.  Considered the nation's annual Latino political convention, the event will take place June 26-28 at the Loews Coronado Bay Resort in San Diego, California.
The keynote remarks will occur during the conference's National Leadership Luncheon, which will take place from  noon to 1 p.m. in the Commodore Ballroom of the hotel.  The former Assistant Attorney General for Civil Rights, U.S. Secretary of Labor Thomas Perez was the first Latino to be confirmed to President Obama's cabinet in his second term.  During his time in office, Secretary Perez has committed to making good on the promise of opportunity for all, giving every working family a chance to get ahead, and putting a middle-class life within reach of everyone willing to work for it.
This year's conference will include nearly 1,000 Latino public officials and supporters from communities across the country.  Conference participants and policy leaders will participate in panel discussions on national agenda issues, including immigration reform, education (with an emphasis on STEM), healthcare, voting rights, Latina political leadership, U.S.-Mexico bi-national issues, water, pensions and an in-depth overview of the influence of Latinos on the upcoming midterm elections. 
The program will also include the presentation of two prestigious awards to national Latino leaders on Saturday, June 28. The NALEO conference has emerged as the preeminent forum for our nation's leadership to engage Latino officials and the millions of constituents NALEO members represent.