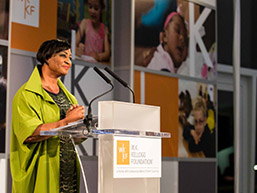 President Obama detailed his plans for executive action expected to benefit more than 5 million of the 11 million undocumented people living in the United States.
The W.K. Kellogg Foundation's recent poll about life for Latino families in the United States, conducted in partnership with Univisión and The Denver Post, shows that optimism continues to fuel immigration to this country. The highest rates of optimism about the future came from new immigrants. That optimism was tempered by a concern about immigration status and fear of discrimination at worksites and by law enforcement. And, it was not without recognition of the struggles that will be faced, especially for those without citizen status.
A statement from the W.K Kellogg Foundation details the support for affirming the rights of all people: "As we consider how these changes might improve situations for millions of families, we cannot ignore the reality of troubling enforcement policies. From Ferguson, Missouri, to border towns in Arizona, there is much work to do to make sure we are protecting and promoting the rights of everyone in this country – immigrants, African American citizens, and anyone else facing barriers to opportunity.
"This action underscores the need to create conditions that empower millions of mothers, fathers, workers and students to sustain themselves and their families," said La June Montgomery Tabron President and CEO of the W.K. Kellogg Foundation. "A lasting immigration reform will go far to unite our communities, demonstrate justice, opportunity and fair treatment for all children."