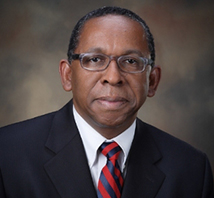 The Board of Trustees of Xavier University of Louisiana announced that it has unanimously elected Dr. C. Reynold Verret as the university's next president. Dr. Verret earned his undergraduate degree cum laude in biochemistry from Columbia University and a Ph.D. in biochemistry from the Massachusetts Institute of Technology. He was also a postdoctoral fellow at the Howard Hughes Institute for Immunology at Yale University and at the Center for Cancer Research at MIT. Dr. Verret is joining Xavier from Savannah State University where he has served as provost and chief academic officer since 2012.
"I would like to congratulate and welcome Dr. Verret to the Xavier family," said Michael Rue, chairman of the Board of Trustees. "While there were a number of highly-qualified candidates, Dr. Verret stood out for his proven leadership and experience expanding enrollment and increasing graduation rates. His record of achievement, personal history, and values set him apart as the clear choice to carry on the ideals that our founder, St. Katharine Drexel, and our longstanding president, Dr. Norman C. Francis, wove into the fabric of this institution."
"I am deeply honored to be elected as the next president of Xavier and am excited to engage the entire Xavier community in envisioning a future that sustains the university's distinct mission in a changing higher education environment and that responds to societal need," said Dr. Verret. "Upon arriving in this country as a refugee from Haiti in 1963, I was supported by many who nurtured my love of learning and science and gave me the encouragement and confidence to persevere. During my tenure at Xavier, I will continue paying it forward, helping generations of young people realize their dreams, regardless of their backgrounds."
Dr. Verret is uniquely qualified by his experience, education, and values to guide Xavier's mission of promoting a more just and humane society by preparing its students to assume roles of leadership and service in a global society. His journey from immigrating to the United States as a young boy to guiding institutions of higher education to success has equipped him with distinctive skills and understanding to lead an HBCU in general, and Xavier in particular.
"From its beginning, Xavier has been dedicated to empowerment of the underserved and voiceless through education, which is a vital instrument of societal strength and justice. In this regard, Xavier's purpose remains relevant, and I am eager to sustain and strengthen it," said Dr. Verret. "I have been shaped by the encounter of faith and reason, as a student of the Jesuits at the former Brooklyn Preparatory, of the Sisters of St. Joseph, and before then, by the Fathers of the Holy Spirit."