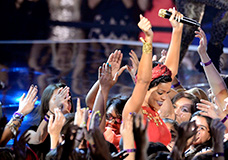 The "2012 MTV Video Music Awards," broadcast live  from STAPLES Center in Los Angeles, was a night of musical firsts with the debut TV performances of new songs by Taylor Swift, Alicia Keys, Lil Wayne, Pink, Green Day, and more. First-time host Kevin Hart set the lively tone for the evening, while One Direction, Frank Ocean, 2 Chainz, and Calvin Harris marked their first-ever VMA performances.
Rihanna, who took home the biggest prize of the night, "Video of the Year," for "We Found Love," opened the show with a sultry performance of "Cockiness (Love It)" featuring A$AP Rocky." She then turned the arena into a huge dance party, performing her VMA award-winning song, "We Found Love," with mega-hit producer and "2012 VMA house D.J." Calvin Harris, who won a VMA of his own for "Best Electronic Dance Music Video."
Alicia Keys' electrifying performance of new single "Girl on Fire" featured a surprise appearance by Nicki Minaj, and was accompanied by U.S. Olympian Gabby Douglas, who performed her gold medal-winning moves on stage.
Chris Brown won two VMA Moonmen for "Best Male Video" and "Best Choreography" for "Turn up the Music." Tying Brown with two wins for the night was M.I.A.., who took home "Best Direction" and "Best Cinematography" for "Bad Girls." The Young Money crew also had a night of successes, as Nicki Minaj won "Best Female Video," and Drake featuring Lil Wayne scored "Best Hip Hop Video." Coldplay garnered "Best Rock Video," and VMA pre-show performer Demi Lovato took home "Best Video with a Message."
A gravity-defying P!nk got the party started from a flying trapeze, performing her chart-topping hit "Blow Me (One Last Kiss)." Rising R&B singer-songwriter Frank Ocean took the stage for an intimate performance of his single "Thinking Of You," off his debut album. Accompanied only by a guitarist, it was an enchanting performance by the VMA newcomer.
U.K. sensation One Direction, took home three Moonmen for "Best New Artist," voted on live throughout the show, "Best Pop Video," and first-time VMA fan voted social media category, "Most Share-Worthy Video" presented by Bing, ascended from beneath the stage to a throng of screaming fans, and performed their hit single "One Thing" on a platform high above the audience.
Taylor Swift closed out the epic evening with a fun performance of her new smash single, "We Are Never Ever Getting Back Together" that brought the entire crowd to their feet. Starting the song in a recording booth, Swift was soon draped by a team of backup dancers as they paraded down the stage with a shower of flower petals raining on the wall of hi-def screens behind them.