All Month, "Katie" Celebrates Women Who Are Reinventing Themselves
Plus, A Rare Television Appearance by Barbra Streisand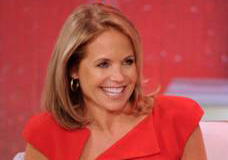 Katie Couric returns to daily television with the premiere of her new, nationally syndicated talk show, "Katie," on Monday, September 10th. The one-hour program, in front of a live studio audience in New York, has been cleared on leading broadcast television stations in more than 96% of the country (check local listings, www.katiecouric.com ).
The longtime co-anchor of NBC's "Today" and anchor of the "CBS Evening News" will mark her "new beginning" by featuring conversations with women who are also marking similar transitions in their lives.
On Monday, September 10th, the premiere episode of "Katie" will be packed with surprises. In addition, Katie will be joined by Platinum recording artist, TV personality and fashion designer Jessica Simpson, who will reveal what life has been like after having her first child this past May. For the first time, she'll discuss some of her most intense challenges, including losing the weight she put on during her pregnancy, the journey to get back into shape, the nasty rumors that have surrounded all of that, and how she's learned to juggle motherhood and her billion dollar business empire. Also on the premiere episode: nine-time Grammy-winning artist Sheryl Crow , who is 50, and like Katie, a single mom and embarking on an exciting new phase of her own career. Crow, who has written and performed the theme song for "Katie," entitled "This Day," will also talk, for the first time, about her recently diagnosed brain tumor.
On Tuesday, September 11th, Katie has an exclusive interview with 24-year-old Aimee Copeland, a Georgia graduate student who this summer lost parts of all her limbs to a rare flesh-eating bacteria. Still facing a rigorous recovery process and learning to use her prosthetics, Aimee defies all odds and walks, for the first time, onto Katie's stage, demonstrating extraordinary strength and courage. Aimee shares her story of survival, how she encouraged those closest to her during this trying period and discusses her new life.
Also in the weeks ahead, the incomparable Barbra Streisand will make a rare television appearance to discuss her passion — women and heart disease — as well as her return to Brooklyn for her first performance there in more than 50 years. Katie will also be joined by Jennifer Lopez, who will talk about her own "new beginnings," including life after "American Idol," life after divorce, and her stunning career reincarnation that has landed her at the top of the Forbes Celebrity 100 list. And Katie will also explore the theme of "new beginnings" with Heidi Klum, the host of "Project Runway," actress Susan Sarandon, late night talk show host and author Chelsea Handler, and Sofia Vergara, the dynamic and always charismatic star of "Modern Family," who will come by on the day her prime time program returns for the fall season.
Important topics, newsmakers and fun will also be front and center in September.
And talk show personality Wendy Williams will join Katie to talk about one of the nation's most secret obsessions: HAIR! Wendy will reveal why she wears wigs and Katie will show off a brand new 'do!