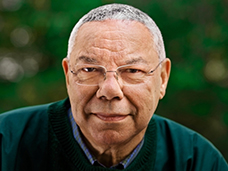 General Colin L. Powell, the 65th U.S. Secretary of State, was the featured keynote speaker at The American College's 7th Annual Conference for African American Financial Services Professionals which included more than 400 African American financial professionals, at all stages of their careers, representing financial companies from across the United States.
General Powell shared his perspectives on leadership and excerpts from his recently published memoir, "It Worked for Me": In Life and Leadership. Included in the memoir are Powell's honest reactions to one of the most controversial times in his career: the prelude to the war in Iraq in 2003. Powell, one of America's most admired public figures, reveals the principles that have shaped his life and career in this inspiring and engrossing memoir. A beautiful companion to his previous memoir, the #1 New York Times bestseller My American Journey, Powell's "It Worked for Me": In Life and Leadership is a trove of wisdom for anyone hoping to achieve their goals and turn their dreams into reality. A message of strength and endurance from a man who has dedicated his life to public service, "It Worked for Me" is a book with the power to show readers everywhere how to achieve a more fulfilling life and career.
"It Worked for Me" is filled with vivid experiences and lessons learned that have shaped the legendary public service career of the four-star general and former Secretary of State Colin Powell. At its heart are Powell's "Thirteen Rules"—notes he gathered over the years and that now form the basis of his leadership presentations given throughout the world. Powell's short but sweet rules—among them, "Get mad, then get over it" and "Share credit"—are illustrated by revealing personal stories that introduce and expand upon his principles for effective leadership: conviction, hard work, and, above all, respect for others. In work and in life, Powell writes, "it's about how we touch and are touched by the people we meet. It's all about the people."
For the seventh consecutive year, The American College, the nation's leading educator of financial services professionals, hosted this two-day conference dedicated to the education and advancement of African-American professionals.
Leading companies from across the financial services industry joined forces to sponsor this unique industry event which features advanced presentations from nationally recognized thought leaders. MetLife, recognized for its ongoing commitment to diversity and inclusion, serves as the founding and presenting sponsor of the event. Northwestern Mutual and New York Life are Platinum sponsors, and Prudential is serving as a Gold sponsor of the event.