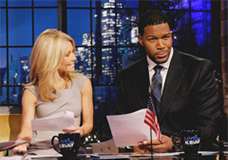 Former Giants defensive end Michael Stahan has been chosen to replace Regis Philbin and become the new co-host with Kelly Ripa of the company's syndicated "Live" morning talk show.
Now that Kelly Ripa has scored NFL analyst Michael Strahan as her permanent co-host, Aruba Tourism Authority (ATA) invites them to celebrate and go "Live!" on One Happy Island — Aruba.
"We love Kelly's bubbly and positive personality and are thrilled she's found an equally energetic co-host she can have a blast with on camera," said Ronella Tjin Asjoe, CEO of ATA. "There's no better place than Aruba, One Happy Island, for this happy pair to kick off their new show, have some fun and entertain viewers back home."
As one of the most revisited destinations in the Caribbean, Aruba consistently attracts American visitors looking to escape the rat race of everyday life. What they find is pure happiness – echoed in everything from the place to the people. With countless activities and events perfectly suited for the spunky co-hosts on the One Happy Island, Kelly and Michael are sure to go "Live!" with a smile.
The weekly Carnival-style Carubbian Festival gives Kelly and Michael the chance to dance down the streets of San Nicolas and engage with entertainers, locals and tourists on stage. They can tap into their wild sides during an off-road ATV ride through the rugged and wild Arikok National Park or dive off a Catamaran into the turquoise seas with a group of snorkel enthusiasts. They can even get funky with musical legends like Chaka Khan at the 6th Annual Caribbean Sea Jazz Festival in October or play ball with pros and amateurs at the Aruba Beach Tennis International Championships in November.