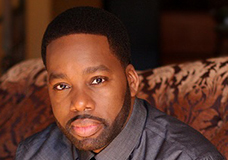 On September 4, 2012, David E. Talbert (shown above) will release his newest play — Suddenly Single — on DVD and via digital download.  Suddenly Single stars
ISAIAH WASHINGTON
(
Grey's Anatomy
),
GARCELLE BEAUVAIS
(
The Jamie Foxx Show
)
BEBE DRAKE
(
Boomerang
),
MARCUS T. PAULK
(
Red Tails
),
BRELY EVANS
(
Sparkle
) and
LAMONICA GARRETT
(
Single Ladies
).  Also, "Suddenly Single" will be available in most Target and Walmart stores as well as online at
davidetalbert.com
.
Click Here
to view a clip from "Suddenly Single."
About the show…..
Samantha Stone (Garcelle Beauvais), a smart and beautiful wife and mother, has been happily married to her high school sweetheart Sylvester Stone (Isaiah Washington) for seventeen years. On the day they're set to move into their dream home, Sylvester confesses that he is leaving her for another woman. What do you do when the only man you've ever loved falls in love with another woman and leaves you suddenly single? Find out in David E. Talbert's latest… a captivating tale of love, laughter, and new beginnings!